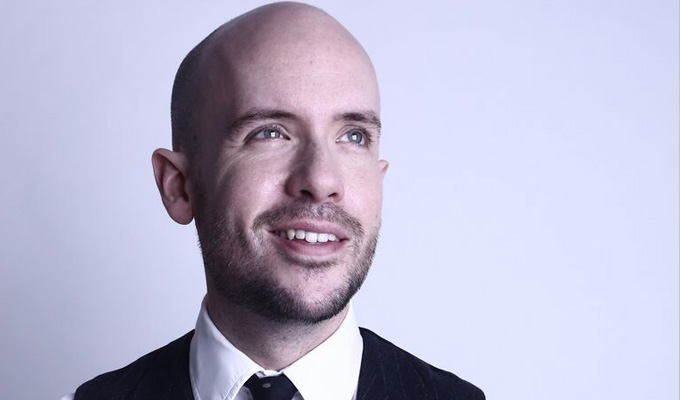 Tom Allen: Indeed
Drenched, as always, in arch camp, Tom Allen's eighth solo show gives the clearest picture yet of the environment which forged him. 
Indeed is a detailed portrait of ordinary, suburban family life, adjectives which he now holds in some disdain. It's the background from whence he sprang, but he's set himself apart from that – perhaps amplifying a feeling of not belonging because of his sexuality – and now occupies an isolated, elevated position from which he can snipe bitchily, but always with mischievous charm.
Allen briefly depicts his mother as a gruff-voiced Biffa Bacon caricature, as he's done before, but the prime subject of this piece is her conservative neighbour Joyce. And isn't that the perfect name for a net-curtain-twitcher? ('Not a euphemism', as this innuendo-loving comedian would no doubt want to explain)
There's a touch of Abigail's Party as he describes the petit bourgeois ham-laden soiree she throws, primarily to show off her new bathroom – modelled, apparently, on one she saw at Gatwick Airport.
Allen tells of getting trapped in said lavatory, accepting that this yarn nothing more than a conceit on which to drape other routines. In fact the device feels very forced, and out of character for a comedian who comes across as such a naturally witty conversationalist.
Many of these tales come from his schooldays with his pal Kevin, who's equally influenced by a strong feminine side, and contain astute and nostalgic observations about everything from leisure centre water flumes to the practicalities of Tippex. And if Allen was socially awkward as a child, adulthood has served him no better, as demonstrated by his maladroit attempts at learning to drive
Occasionally the starting points are familiar – he's certainly not the first comedian to notice how poorly French lessons equip you for the real world – but his aloof affectation and vivid descriptions elevate his comments. Allen has a love of language both in its writing and its speech, not only deploying exquisite phrases, but beating sentences into pleasing rhythms. Words expand or contract to fulfil the almost musical ebbs and crescendos of his rants, especially as they reach their vexed peak. 
He's often compared to old-school camp raconteurs such as Kenneth Williams and Frankie Howerd, but Allen also has elements of other comics. You can spot a bit of Victoria Wood in those suburban references, a smidgeon of Eddie Izzard in the loquacious excesses, a dash of Michael McIntyre in the incredulity he reacts to the everyday, possibly even some Oscar Wilde waspishness to the barbs.
As fans will know from his increasing panel show appearances, it's a winning 'light entertainer' mix – even if Allen is the sort of light entertainer who can drop in references to chemsex (not that it's for him, mind). On top of that, Indeed cements his reputation as an elegant, hilarious snob.
Review date: 29 Nov 2016
Reviewed by: Steve Bennett
Reviewed at: Soho Theatre
Recent Reviews
What do you think?