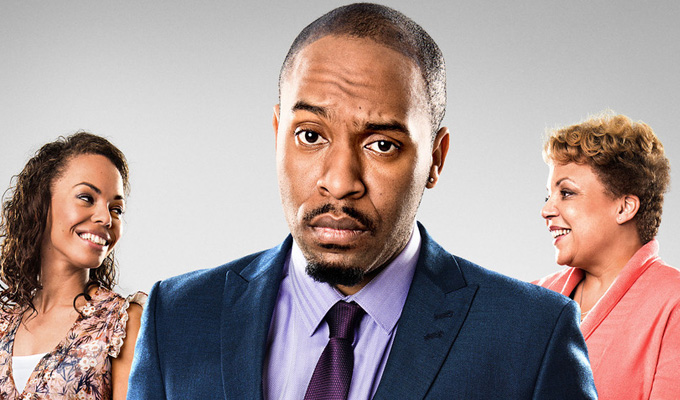 Sunny D
Note: This review is from 2016
With its cast dancing in casual knitwear, Sunny D knowingly evokes The Cosby Show from the moment its opening credits start.
And despite the ironic nod, there are some superficial similarities, as both sitcoms aim to bring the life of a normal black family to a mainstream – which, let's face it, means 'white' – audience.
But there are major differences too (and not just in the respective stars' position on consent). The fictional Cosby family was living a charmed life, with a polite, warm respect among its members. Dane Baptiste's family is a messier, more realistic affair – and his character a more resigned deadpan compared to the slick jollity of Nineties American sitcoms.
He's a late twentysomething man trapped in a tedious job as some clerical drone. He always thought that if he worked hard and kept his nose clean, he'd be living the millionaire lifestyle of a hip-hop star by now. As it is, he can't afford to live anywhere but in his parents' home.
It means he's no further ahead that he was as a teenager; still bickering ferociously with his sister, and afforded no privacy in his own bedroom decorated with Scarface and Michael Jackson posters.
This is an idea that must have been pitched to broadcasters a thousand times by every comic at this stage in their lives, but BBC Three seems to have picked a winner with Baptiste's take, which is packed full of solid jokes – often in that viciously pointed banter in the 'civil war' with twin sister Kadean (Gbemisola Ikumelo) – and believable, but larger-than-life characters.
The central premise is that circumstances mean Baptiste's life is not his own. Each of his insistent aunts fusses over him, pushing about the next big life choice. When's he getting married? Having kids? While the senior males of the family impose their own ideals of masculinity – primarily involving drinking rum. He feels emasculated by comparison to those expectations, and compared to his perfect cousin  Christian (Akemnji Indifornyen) a confident (but dull) alpha-male with the smarmy charm of a huckster estate agent.
Each episode, running at an unconventional 20 minutes as the iPlayer isn't constrained by traditional schedule, features a plethora of flashbacks and cutaway sketches. Too many, in truth, since the family dynamic is the primary driver and the inserts don't always work. But the best – Baptiste's head on a baby's body or a Keeping Up With The Kar-Dane-Shains spoof– are worth including.
Commissioned off the back of a Comedy Feed one-off, these four episodes show a lot of promise. It's been launched as part of the BBC's 'Black and British' season, but the 'black' tag seems like marginalisation, on top of the online-only release, as with a bit of finesse Sunny D has potential to be a series worthy of primetime.
• Episode one of Sunny D, D is for Declarations, has been released on iPlayer today, with further episodes to come over the next three Sundays. View here.
Review date: 13 Nov 2016
Reviewed by: Steve Bennett
Recent Reviews
What do you think?