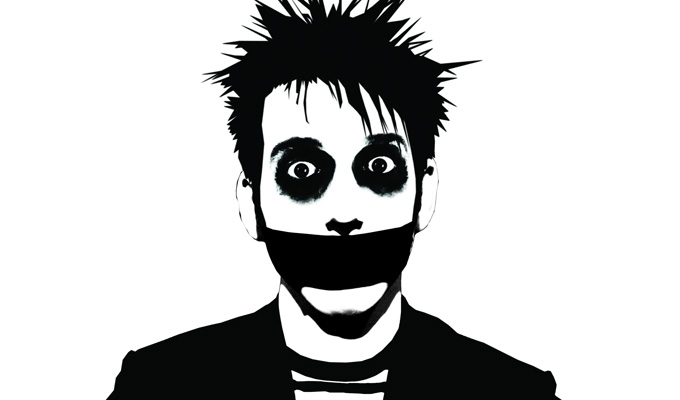 The Boy With Tape On His Face is Tape Face
On the back of his phenomenal success getting to the final of America's Got Talent, creative mime act Tape Face is hitting the West End for seven weeks next summer – and tickets have just this morning gone on sale.
Perhaps with that in mind, this skilled silent comedian has upgraded his theatricality for this tour. There's a full set now, recreating a theatre's dressing room, with the supposition is that all that's happening is in his mind, as he dozes off to the Shipping Forecast while awaiting his call to the stage.
It's a peculiar and unnecessary device, since Tape Face – aka The Boy With Tape On His Face, aka Sam Wills – operates very much in the present, with a show very much built on interacting with the audience in front of him in the here and now. There's a suggestion this is an escape from reality – the door to the stage holds back terrors, while music hall's old plate-spinning trick is reimagined as someone juggling many anxieties – each bit of crockery representing a damaging, nagging fear from 'did I leave the iron on?' to 'did we sell any tickets?' that must be kept aloft.
Other than this, it's business as usual from this talented speciality act in the finest spirit of variety, with plenty of imaginative set pieces to delight.
However, if you're a repeat customer, there will be diminishing returns. Often with his prop work the moment of joy comes when the household objects suddenly take shape, and the penny drops as to what he's doing. If you've seen him do it before – as tens of millions have online – the surprise value is naturally diminished. Bits of business such as the oven gloves duetting may or not become classic routines that audiences demand be repeated, but it's never the same second time around. (And that's especially true of the finale, pared down and with a reduced jeopardy compared to when he first debuted the routine at the Edinburgh Fringe)
The skits when he works with audience patsies raise the stakes, the unpredictability and the humour. Tape Face's expressive, kohl-framed eyes implore 'volunteers' to take to the stage, impart instructions by example, or – funniest of all – admonish his students for stuffing up. The mocking and frustration when they don't perform to his exacting standards are delightful, a mastery of crowd work with not a solitary word exchanged. When the punters finally get it right, the whole audience shares in the feeling of achievement in winning the approval of Tape Face.
While he is a parent figure to be appeased, he also brings out a childlike desire for play. The whole warm-hearted spirit is a throwback to simpler pleasures when you could be entertained enough with a retractable tape measure and a fertile imagination. But there's a great skill in harnessing that, and former street performer Wills is a tight, well-drilled performer with keen instinct on how to pitch the playfulness.
With a familiar soundtrack – Gallic strains from Amelie giving way to pop classics at almost every moment of revelation – and its joyous spirit, there's something of a party vibe to the show, with Tape Face the clown providing  entertainment with a feelgood guarantee.
Review date: 11 Nov 2016
Reviewed by: Steve Bennett
Reviewed at: Hove The Old Market
Recent Reviews
What do you think?