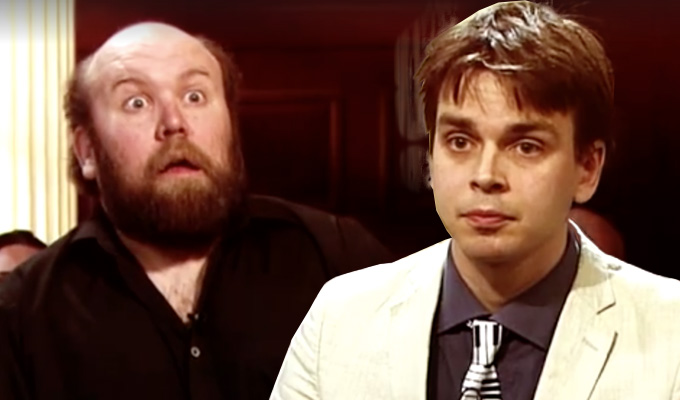 Judge Rinder: Joz Norris vs Bob Slayer
Note: This review is from 2016
CONTAINS SOME SPOILERS
Here's a first for Chortle: reviewing a fake courtroom show on daytime ITV.
But Judge Rinder risked becoming a fully-fledged sitcom today as comedians Joz Norris and Bob Slayer clashed over an unpaid debt.
The show is not usually without humour, thanks to Rinder's sardonic putdowns, And after a sincere case involving an allegedly missold puppy (who wore a tie for his TV appearance), the barrister sent in the clowns. Or 'comedians of some description' as he described with mock impatience.
Norris was seeking £500 for non-payment of wages for an appearance at the 2012 Download heavy metal festival that Slayer helped to book. But Slayer claimed he 'harmed himself trying to salvage Joz's failed set', so counterclaimed the same amount.
The silliness of case contrasted with formality of the courtroom, which was  shown a YouTube clip of Norris singing 'I love sausages' before he explained: 'Mr Sausages is a puppet sidekick I used for a bit.' Said sidekick then made his appearance in the witness stand, not quite a cute as a tie-wearing bichon frise.
Rinder – whose star is growing thanks to his appearances on Strictly Come Dancing and whose name apparently rhymes with 'cinder' not 'grinder' –  expressed some disbelief that after indulging in 'mosh pits, headbanging and singing loudly about the devil, Metallica and Black Sabbath fans would stop for a bit of comedy…to leave that stage and go and see Mr Sausage.'
Would any act stand up to dry, legal scrutiny outside the environment of a  comedy tent, let alone one as silly as this? Norris – resplendent in piano keyboard tie – probably wasn't doing the greatest job in advertising his 'naff children's entertainer' shtick. 'I know it's a bit rubbish,' he confessed, although he later insisted he had got better since.
Rinder provided as much comedy as the plaintiff and defendant, 'dozing off' as Norris described his act, sighing: 'Are you still here?'  and shrieking: 'I'm mildly surprised you got out alive!' There was even a nob gag from the bench…
The TV courtroom heard how Slayer intervened six and a half minutes into Norris's  20-minute set, saying he was concerned about  his fellow performers' safety in the tent full of angry metalheads. 'How was the audience responding?' asked Rinder. 'Give me the face of an audience member you saw' – prompting some hammy face-pulling from Slayer.
Slayer's festival interruption was caught on video, showing him climbing into a wheelie bin for some impromptu crowd surfing. Then came the came the shock: that Slayer broke his neck during the stunt. 
Though more to the point, another consequence was that the festival refused to pay Slayer, who in return withheld Norris's money. 
Rinder's verdict held many a message to comedians – not least to get things in writing.   'I understand you are an anarchic performer, but you shouldn't forget this is also a business,' he told Slayer, who was acting as a 'de facto agent' for Norris.
'Bob you have to be a little more responsible financially and in every sense,' was m'learned friend's advice. Fat chance.
Judge Rinder is available on the ITV Hub here.
Review date: 31 Oct 2016
Reviewed by: Steve Bennett
Recent Reviews
What do you think?