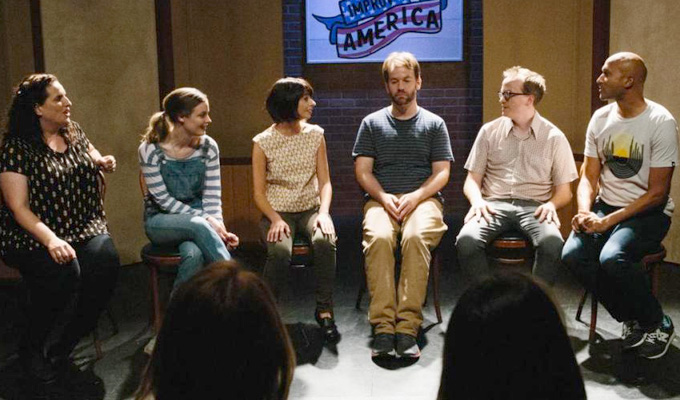 Don't Think Twice
Note: This review is from 2016
Don't Think Twice is as accurate a portrayal as you'll see of comedians' psyches; but it's also a touching and funny look at anyone delaying the onset of adult responsibility.
It's based around a New York improv group, The Commune, whose small fringe theatre is facing closure under the ceaseless march of gentrification, to become another Trump Tower, no less. However external forces are not the biggest threat to their survival but internal ones, as fissures start to open in their initially strong camaraderie. For small-scale improv, sociable and creative as it is, is no sustainable job, and eventually that truth takes its toll.
Stand-up Mike Birbiglia directs and takes the role of this tight community's elder statesman, Miles, the man who taught them the key rules of improv: always run with ideas with a 'yes, and…', check your ego as its all about the group, and 'don't think', just run on instinct. But at 36, he still lives in a dingy, windowless room more akin to a student dorm, holding on to the increasingly elusive  dream that one day he'll make it.
For in New York there is a route out of the penury of improv for the very few: Being plucked from off-off-off-Broadway and into the regular cast of TV's biggest comedy institution, Saturday Night Live. Sorry, Weekend Live, as it's called here, lest NBC's lawyers be watching.
One night the talent-spotters swoop into The Commune. 'Don't showboat,' the charismatic Jack (Keegan-Michael Key), is warned. Yet sure enough he does – defying the premise of collective performance – shoehorning his Barak Obama impression into an otherwise unrelated sketch, and achieving his aim of wowing the scouts. When he makes a step to the big time, there's an immediate rush of triumph, which subsides to unlock resentment, bitterness and a hitherto suppressed ambition among all his friends.
Jack's idea of success contrasts with his girlfriend Samantha (Gillian Jacobs), another star performer, but one fearful of going up to the big league where she might fail. The comradeship of The Commune is what she counts as success, and she can't bear to lose it. 
Indeed, there is a palpable sense of community with the group,all bound to this sanctuary away from the outside world world of dead-end jobs and disapproving parents. Any tensions within can be defused with in-jokes – at least up to a point – but when reality seeps in, those conflicts become more concrete. As one character surmises the crux of the film: 'Your 20s are all about hope. Then your 30s are all about realising how dumb it is to hope.'
The group is completed by Bill (Chris Gethard), who can only find his self-esteem on stage, Lindsay (Tami Sagher), seen as a possible dilettante with no work ethic, given her parents' wealth; and Allison (Kate Micucci), a cartoonist clinging to whimsy. They are sympathetic for, or more likely because of, their flaws and make a great ensemble, offstage and on. In a rare achievement for the cinema, the live comedy performance is  actually well-captured, with the improv scenes genuinely funny – comic relief for the relationship woes which Birbiglia also handles with a light touch.
Perhaps it's down to Birbiglia'ss background in stand-up, Don't Think Twice feels absolutely genuine, from the straight-faced scrutiny with which the group watch Weekend Live to their pre-show good luck rituals. (Although the many British improvisers in the audience at yesterday's London Film Festival screening might be able to vouch for its veracity with more certainty). And despite the tensions, it retains a warm, uncynical heart, with any splits in the troupe depicted with sadness.
This mature, emotionally intelligent comedy deserves a wider release in the UK, and if you get the chance to see it the response is obvious: don't think twice.
Review date:
17 Oct 2016
Reviewed by:
Steve Bennett
Recent Reviews
What do you think?