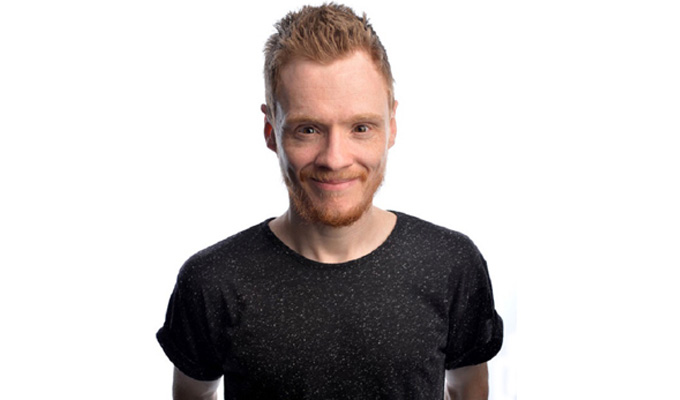 Andrew Lawrence: The Outcast Comic
It's a strange phenomenon of modern times that Andrew Lawrence can foster an edgy, rebellious image for adopting the exact-same reactionary tone of the government and most of the press.
The Outlaw Comic, which aired on Sky Arts last night, will only cement that lone wolf image, as it charted how he was ostracised by most of the comedy world after posting that notorious Facebook message expressing sympathy with Ukip and berating a quota system which he felt unfairly rewarded 'ethnic comedians and women posing as comedians' at the expense of the straight white male.
It's an argument we've heard lots of times before – most recently as Jon Holmes got dropped from the Now Show in the name of diversity – all the while being told 'we can't talk about this'.
This is the flip-side of 'political correctness': that ideas outside the liberal consensus become covered with a subversive gloss, while actually promoting the unequal status quo. That fallacy allows him to play the victim, both in thinking straight, white men never get a break and protesting: 'Some people have tried to smear me and discredit me.'
Director Wael Dabbous only briefly referred to this counter-productive side of the PC movement, mainly through his interview with Brendon Burns, who pointed out that 'bigotry does fantastically in a repressed environment' and noted that: 'Mock outrage at [Lawrence] made him bigger and more successful'.
Whether this was a calculated move on Lawrence's behalf remains ambiguous. Some of the comedians interviewed believed his stance might be revealed as an elaborate prank or at least a very convincing character. And is there a clue when Lawrence said: ' When I first started I felt I needed to create a persona because I wasn't very interesting'?
Lawrence tries to distance the jokes from the targets, claiming to have been 'misconstrued' as a political right-wing comic and insisting that you 'can't extrapolate anything I genuinely feel or think in real life' from his comments on stage or online. Though the message still seems to give succour to the bigots, a point we're seen disagreeing on in the film.
Also that initial Facebook post was not a funny one, but a straight point about how Ukip had become a cheap punchline and raising concerns about the 'benefit tourists and terrorists' among migrants.
Such sentiment is, indeed, rarely expressed in the liberal comedy world, which is why Lawrence felt it needed saying. Though referendum results show he's probably in the majority. No wonder he jokes that there's a market for what he now hawks.
Yet the Outlaw Comic portrays him not only as a lone wolf but also a lonely one, looking pained in dressing rooms and introspective as he drives from gig to gig.
The documentary also raises points about freedom of speech, with most the contributors defending his right to say whatever he wants – but also their right to pillory him for it. 'Gotta accept the blowback,' as Reginald D Hunter put it, while also pointing out that while there is 'no more powerful fuel than anger,' it's also a toxic one, eating away at the comedian once the creative burst is over.
There have been more worrying incursions into free speech that Lawrence's social media battering, as shown in a brief montage of comics such as Canadian Mike Ward, fined for his gags, or of the destructive power of the Twitter outrage factory, such as Nobel laureate Sir Tim Hunt 'hung out to dry' after an ironically sexist comment was taken out of context.
The kneejerk-driven social media echo chamber is also a factor in the Lawrence situation, with his post treated like it was a shot that reverberated around the world. 'Within the comedy community in Britain it was a huge deal, a massive deal,' says Nish Kumar. Though beyond that, who knows the real impact of suddenly finding yourself Nigel Farage's favourite comedian.
Al Murray thought there might be something in Lawrence's new stance, citing the wise words: 'If you're taking flak you're over the target.'
He agreed that Ukip had become a lazy target, but that 'if people are bidding for political power, you are going to make jokes about them'. And that before they started physically scrapping among themselves. Murray's sentiment echoed by Shappi Khorsandi, who said here was 'nothing really sinister' about the cheap jokes, which she likened to the easy laughs of Thatcher jokes in the 1980s.
Although it raised the issues of 'punching up' versus 'punching down'; the limited political views of comedians and the self-censorship that comes with following the crowd, The Outlaw Comic didn't – couldn't – offer any answers. And certainly lacked a conclusion, with Lawrence half-heartedly musing whether he'd gone about things the wrong way or forced down this path by sheer bloody-mindedness.
Review date: 7 Oct 2016
Reviewed by: Steve Bennett
Recent Reviews
What do you think?