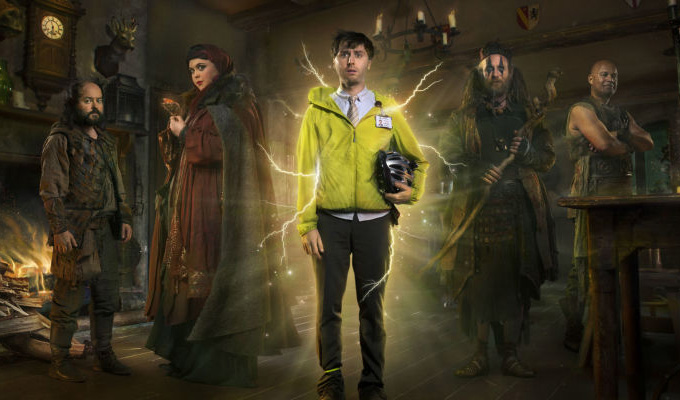 Zapped
After finding success with the revival of Red Dwarf, the Dave channel has now turned to another cult genre to find its next comedy hit: fantasy. And the signs from the first episode of Zapped are pretty encouraging.
It stars Inbetweeners actor James Buckley in his usual feckless everyman guise: this time a temp who inadvertently takes possession of a magical amulet that transports him to an odd parallel universe, inhabited by fairies, soothsayers and the lovechild of a dwarf and a giant.
So, a classic fish-out-of-water setup, behind all the trappings, But it's executed well. Of course, Brian Weaver struggles to come to terms with his new reality in the realm of Munty, but its inhabitants are also baffled by him, especially his explanation of what an online content manager actually does.
Zapped is clearly in the same territory as Sky's Yonderland, if without the budget. Although the fantasy elements are underplayed – a couple of jokes about the genre's cliches notwithstanding – making sure the emphasis is on the characterisation.
Stealing the show, as he always does, is Paul Kaye, a bone fide Game Of Thrones star. He is brilliant as the purveyor of magical artifacts and as much of a spaced-out, 'brain-fried' hippy as you'd expect anyone who calls himself a 'grandmaster wizard'. Kaye throws himself into the insanity delightfully.
Sharon Rooney from My Mad Fat Diary plays soothsayer Barbara ('and that *is* a real branch of witchcraft'), whose desperate romantic obsession is a bit of a predictable trait, as is her incompetence, although both form the basis of some decent gags.
Steg – Cuckoo's Ken Collard – has plenty of promise as a revolutionary, raising awareness of issues if he could ever tear himself away from the pub run by Herman (Louis Emerick), although he's rather underused here. And yes, the language and tone is very 21st century, despite the mythical setting, so 'raising awareness' is fine. As is the sly joke about Donald Trump that writers Dan Gaster, Will Ing and Paul Powell snuck in.
Their script is brisk and fun, full of lots of little jokes and occasional great one, and they don't need to resort to anachronisms for a laugh – even the Trump joke is true to the alternate universe.
With the action fuelled by Brian's desperation to go home, and personalities you're happy to hang out with – look out, too, for Sally Phillips playing against type as the villainous Slasher Morgan, and Ricky Grover very much playing to type as the intimidating angel – Zapped is a likeable, funny show even if you don't know your Westeros from your Cheerios.
Three episodes of this fantasy-comedy have been ordered, in line with UKTV's recent policy of trying more than a pilot, less than a series. But expect the commissioners to be donning their magic amulets to return to Munty for more.
• The first episode of Zapped is available on UKTV Play now, and will be screened on Dave next Thursday, October 13, at 9.40pm
Review date: 6 Oct 2016
Reviewed by: Steve Bennett
What do you think?