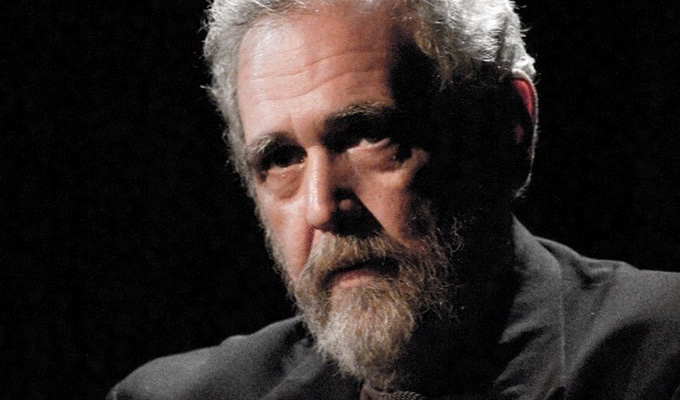 Barry Crimmins
Barry Crimmins has the perfect rejoinder when a punchline falls flat. 'Kurt Vonnegut liked that joke, so fuck you…'
For although not famous, Crimmins is a Bona Fide American comedy institution, feted by such luminaries. If you know anything about him, you'll know him as an inspirational, if complicated figure. If you don't, get on to Netflix now (or in 600 words time) and watch Call Me Lucky, Bobcat Goldthwait's gripping documentary about his time as an early socialist firebrand comic and the sacrifices he made to campaign against online child pornography against corporate AOL hubris.
Despite such a pedigree, there's only a small audience for his first of three nights in London's Leicester Square Theatre, which turns out to be very much an exercise in finding his feet. The show takes a while to get into gear, and he's hampered too, by 'translating this into English' – fretting about references, some of which are crucial, some trivial. The line Vonnegut so loved is tripped up by him explaining that public schools in the US are what we would call state schools here, but not so succinctly.
Equally, British audiences are not as au fait with Irish politics to know that the Eighth Amendment prohibits abortion, though a single phrase of elucidation would have helped this along. He pep-talks himself a couple of times to 'dig in' and show the determination to get stuck into the guts of his show that eludes him.
And eventually he does, demonstrating why he's a genuine outlier in the American political comedy scene and held in such regard. He's a man of convictions – and will directly protest to stand up for them. His politics runs deeper than making cheap jokes about whatever fuckwittery Donald Trump just blurted out; it's the whole system he rails against.
Back in the States, and especially the rural backwater of upstate New York he calls his home, being even vaguely left-wing is tantamount to treason, so it's been a courageous stance. This side of the Atlantic, 'socialist' isn't such a loaded word and he's telling us what we want to hear about his 'militaristic violent, stupid-ass sloganeering, one-dimensional country dominated by narcissistic jack-offs'.
For all his passion, the 63-year-old is relatively quietly spoken – an underpowered lapel mic exacerbating the situation. But there's a steel behind that avuncular facade, and he has a nervous energy, walked off as he paces the stage, only occasionally stopping to read his notes perched on a music stand.
His political position earns him several applause breaks as he praisese the NHS and speaks up for gun control. On topics like this his stance is self-evidently common sense, making it hard to add any comic absurdity to situations beyond parody.
But Crimmins has a long history of this, and he knows how to get a point across, often with a succinct, biting joke or aphorism. His anti-war rhetoric, rooted in the Vietnam era, is impassioned, and really gets the bit between his teeth in a historic diatribe that takes him through Nixon, Bush, Reagan and Son Of Bush.
More contemporarily, the other Republican possibles whom Trump saw off are also incisively dismissed, and you only need the scantest of knowledge to appreciate the skewering. And from just this UK visit he rightly slams Time Out for saying he 'admitted' being a victim of childhood sex abuse, an inadvertent mistake, but one that opens up just a fraction of the anger that the incident instils in him, bringing the show to a powerful close.
Crimmins is not laugh-a-minute, although fixing first-night gremlins will improve that. But he has a more important characteristic: authenticity. That's a precious commodity in comedy, and the reason why generations of political stand-ups have been influenced, directly or indirectly, by such a compelling orator.
Review date: 30 Sep 2016
Reviewed by: Steve Bennett
Recent Reviews
What do you think?