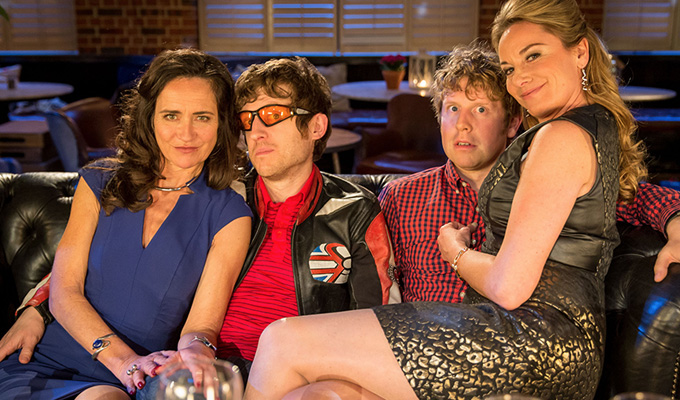 Josh series 2
Note: This review is from 2016
Josh is pretty much a textbook sitcom – but that should not be taken as a ringing endorsement.
The comedy, which returns to BBC Three tomorrow despite a tepid critical response last year, is technically competent and adheres to all the rules of the genre: the scenes are tight and each line works towards a gag. But it's also bland, lacking a strong personality or deeper purpose other than to deliver contrived lines. Nothing much has changed since the first series.
The premise is simply three slightly useless, white, arrested-development twentysomethings in a flatshare incompetently bumbling through life. Well, technically lead Josh Widdicombe and Elis James as his best mate Owen are in their mid-thirties, but the spirit is a decade younger.
Josh is an awkward worrywart, Owen is more assured, but still destined to come a cropper, and third flatmate Kate (Beattie Edmondson) is described in the show blurb as 'disaster-prone', which is pretty broad for a personality trait. Her lines could almost be interchanged with Josh's.
In this opening episode of the second series, Bed & Breakfast, she ends up taking downcast landlord Geoff (Jack Dee) to a romantic French film after a conversation so true to sitcom tropes that you know they are speaking at cross-purposes even though the 'reveal' doesn't come until much later.
Meanwhile, Owen and Josh go on a double date with a couple of voracious cougars, Karen – a welcome re-appearance for Susannah Doyle, best known as Drop The Dead Donkey's wonderfully surly Joy – and Valerie, played by EastEnders star Tamzin Outhwaite,who speaks only in innuendo.
The template is probably Friends, to the extent that when Josh's girlfriend Gemma (Zahra Ahmadi) told him 'I need some space' it's treated in the same way as Ross and Rachel's 'on a break'. And while Friends popularised slang like 'going commando', Josh hopes to achieve the same with the existing phrase 'custard cousins' (linked by having slept with the same person).
The script – by Widdicombe, Tom Craine and Henry Paker – is reasonably funny, and the plot cracks on towards its predictably back-to-square-one denouement. However, it never breaks out of the contrived template of sitcom, nor has any ambition to do.
Josh is the sort of comedy you'd probably passively enjoy if it came on while you were watching telly of an evening, but in the new era of online BBC Three, and all its on-demand rivals, you wonder if it's got a strong enough pull to be a show viewers will actively seek out.
• Josh will be available on the iPlayer from 10am tomorrow. Future guest stars include Michael Ball, Emma Bunton, Miles Jupp and Mike Wozniak and the return of Edmondson's mum Jennifer Saunders.
Review date: 21 Sep 2016
Reviewed by: Steve Bennett
Recent Reviews
What do you think?