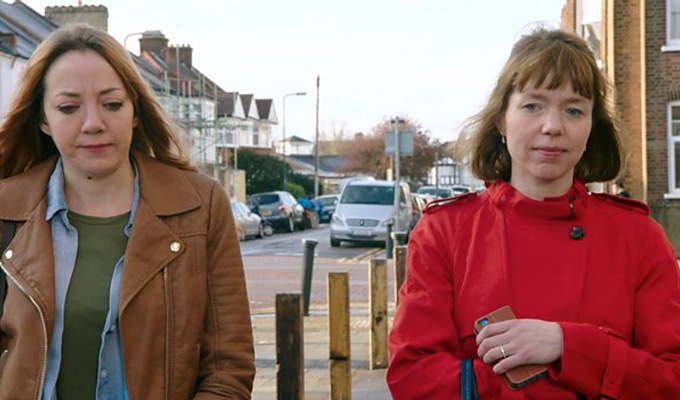 Motherland
Note: This review is from 2016
Frenetic, stressy and trying to juggle several balls at once… the whole tone of Motherland has a lot of parallels with the chaotic realities of parenthood, which it represents so well.
Central character Julia (Anna Maxwell-Martin) is finding that work-life balance is more of a manic see-saw. We meet her aggressively zipping through traffic while combing her hair, grappling the irritating Bop-It game from her daughter in the back seat and trying to call the office – before letting out a primal scream of utter frustration.
The opening section is classic farce as the flustered Julia, already on the verge of breakdown, digs ever deeper to cover a lie she conjured up rather than admitting to a mistake in her befuddled state. And her problems are only going to get worse as her mother – Ellie Haddington surrendering any dignity in a distinctive look of post-holiday dreadlocks and sunburn – decides she is no longer going to be offering the free babysitting service 
This throws Julia into the world of the suburban mums, women thrown together for no other reason than their children. Representing the colour-supplement ideal of designer home, white-wall elegance is the wealthy Amanda (Lucy Punch, a doppelganger for a young Joanna Lumley) the mother of all mothers, judgmental of Julia for doing something as crass as taking paid employment while being a parent. She leads a clique of vicious alpha-mums,backbiting and gossipy behind their insincere smiles. Oh how Julia would love to belong with them…
Diane Morgan, in her second pilot in two days following her role in James Acaster's We The Jury, represents the other end of the spectrum. Liz has a laissez-faire attitude to both parenting, which you might easily mistake for allowing her kids to run riot, and life in general. When she has an accident, she remains utterly calm as Julia hyperventilates with stress. And she's unemployed because 'one of my calls got recorded for training purposes, so that was that'.
It's a slightly eccentric line, leaving the details unsaid, and expertly delivered. Though you would probably expect no less from the script, given the pedigree of the writers  Graham and Helen Linehan, Sharon Horgan and Holly Walsh. But the 'sit' here definitely owes more to Horgan's honest realities than the heightened, surrealist-tinged  work more normally associated with IT Crowd creator Linehan, who also directs.
That the situation feels so genuine is what makes Motherland stand out. It also features classic class tensions with Julia torn between wanting to be like Amanda but realistically more like Lizzie – as well as the more pressing concerns of wanting to offload the kids, a driver of the action  scene-by-scene.
Motherland is the latest in a strong run of female-led sitcoms from Fleabag to Mum, and as the final BBC Two pilot in the Landmark Sitcom season must be a strong contender to go to full series.
Review date: 6 Sep 2016
Reviewed by: Steve Bennett
Recent Reviews
What do you think?