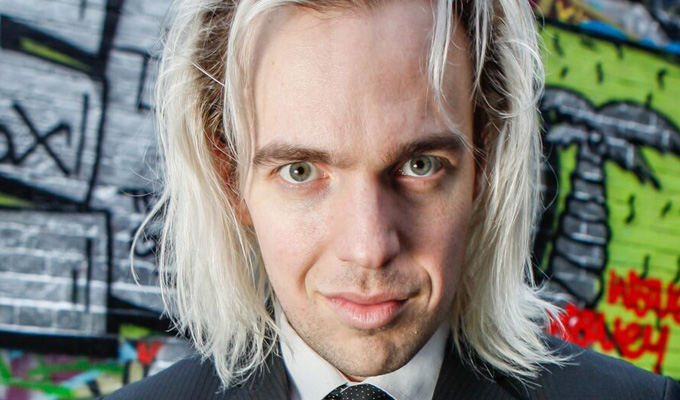 John Robertson: Arena Spectacular!
Note: This review is from 2016
This is a comedy show about comedy shows, which normally means cynical navel-gazing and wry in-jokes. But John Robertson is too much of a showman for that. His take is full of vibrancy and spontaneity, a freewheeling ride through his job.
He's chosen this because after a string of tragedy-themed shows, nothing has gone wrong for him in the past 12 months. He knows the power of emotional evisceration in getting acclaim, but a review last year that implied him talking about a friend's suicide was 'exploitative' clearly rankles.
Some of his mockery of his artform is direct: mimicking the affectations of American comics (though not very well, to be honest, they are a lot punchier than this); highlighting the 'fear and bemusement' that drives British stand-up; or parodying the stock compere/audience 'banter' with a non-negotiable brutality borrowed from his interactive Fringe hit, The Dark Room.
There's also more subtle stuff, given that the whole show is a preamble to something else, the mainstream arena-filling stand-up acknowledged in his title. But he can't deliver that, he feels, as a self-identifying pervert whose only interests are sex, death, bondage and video games – niche interests as the empty seats in Stand 2 attest.
Robertson, who has the look of a washed-up Vegas magician, delivers this with passion and energy that has similarities with fellow antipodean Brendon Burns. He prowls the room – not just the stage – like a predator, picking a few targets to toy with and spinning off long ad-libbed asides that give the hour an edge of excitement.
Despite his protestations, there are a couple of proper routines in here, even if they are not Live At The Apollo friendly. There's a great one about his mum mixing up films, and an extended closer about hiring out a sex dungeon in a normal suburban street, describing the equipment, uncovering some unlikely music compilations in the CD cupboard ('Ow! That's What I Call Music', surely?) and spotting signs warning customers not to disturb the neighbours with their sado-masochistic practices.
He envisages his story ending with a neat exchange with an observant Muslim family next door that he can imbue with meaning and gravitas, for a thematically satisfying closure. But unlike a lot of other comics he can't force himself to fabricate such a pat conclusion to appear meaningful.
So instead he ends with what he's best at: pure showmanship. Good call.
Review date: 28 Aug 2016
Reviewed by: Steve Bennett
Reviewed at: Stand 2
Recent Reviews
What do you think?