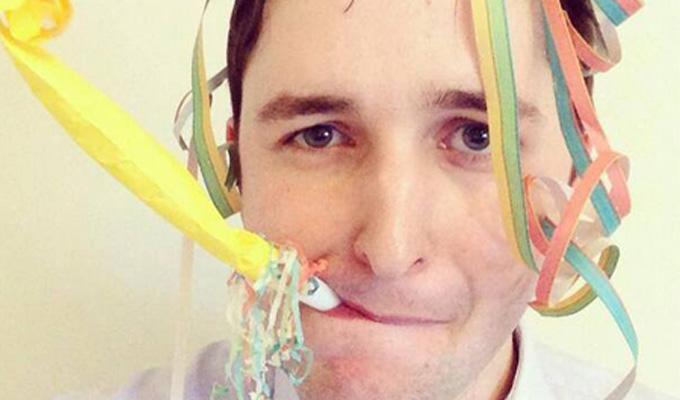 David Stanier's Silly Party
Note: This review is from 2016
Imagine if you threw a party and no one came. That's the dread of every Fringe performer and especially David Stanier, whose show is based around an actual party – and only attracted seven punters on the night Chortle was in.
'Sweet' is the adjective that springs to mind when describing him, with his winsome laugh and silly sensibilities. Jokes are greeted with a dumb grin, shoulders raised up and a giggly suppressed laugh. When he's surprised he says 'aargh' and puts both hands in the air like a Wild West cactus. It's as if he's learned human reactions from children's drawings.
Despite the low turnout, he's gloriously happy to see every one of us, and hosts the shindig as if it was full, leading us through games such as pass the parcel, a piñata – which seems ever-so dangerous for the poor cherub as he holds the target aloft – or his own creation, Binco, Banco, Binco. There is participation, but so low risk as not to scare anyone.
With its naivety and simple fun, it could easily be a kids' show. There are no dark turns or hidden adult jokes. Certainly, 9.40pm seems too late, though that doesn't mean it's twee as Stanier has a knowingness behind the daftness which ensures nothing's taken too seriously.
There's some prop comedy work and the odd – in both senses of the word – sketch, such as God and the Devil having a showdown after being inadvertently summoned. There's clearly a limit to the number of scenarios involving party games you can do, and Stanier does run out of them a little before he running time is up, but he makes the most of his premise.
It's all lovely, feelgood stuff. Nothing will rock your world, but you will get to play for an hour, led by an infectiously cheery host
Review date: 27 Aug 2016
Reviewed by: Steve Bennett
Reviewed at: Just the Tonic at The Mash House
Recent Reviews
What do you think?