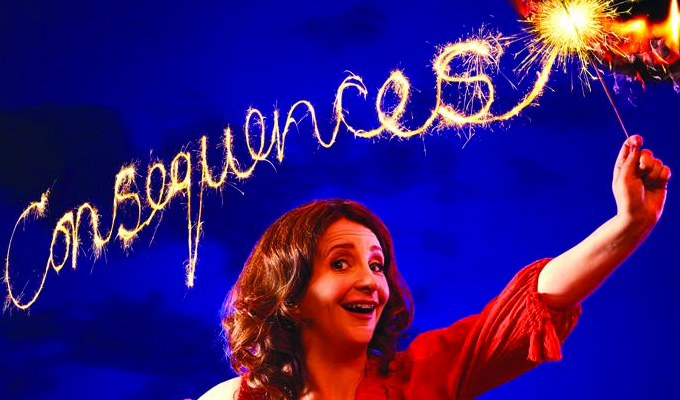 Lucy Porter: Consequences
A lot of comedians find humour in the differences between generations, teasing the youth for their ignorance of cultural references before their time or the old for getting dull and decrepit – but few with the charm of Lucy Porter.
'This is less a gig and more a drinks party,' she says as she wheels out that talisman of suburban entertaining, the hostess trolley, and offers a choice of port or sherry to anyone who contributes to the show.
For she is now very much in this middle-class territory, with her home in Pinner, two children and loving husband, the actor Justin Edwards. It's not the future life she expected when a music-obsessed, politically radical teenager.
After a magazine asked her to write a letter to that 16-year-old self, Porter decided to keep the correspondence going, with the younger version answering back, berating the 42-year-old her for being a square, losing sight of her social ideals and not marrying Morrissey. The letter's full of tongue-in-cheek references to 2016 life, not filled with amazing comic insights, but classily presented with a knowing wink.
This set piece establishes the scene for some friendly chat, primarily with a young person in the audience, elected as a spokesman for his generation after passing a test to prove he empathises with the old, who, we learn, 'love puns'. And Porter's got a bunch of 'em scattered throughout the hour.
Her main thrust is to examine shifting attitudes, both hers and society's. She has no problems calling out a sexist Australian sheep shearer (don't ask), but admits she struggles to get her head around trans rights – possibly a bold confession in these ultra-PC times. But she tries; she knows the world is generally changing for the better, however it might sometimes appear, and wants to be on board. Trust this ever-perky performer to take an optimistic view of life.
Driven by anecdotes – on everything from dressing as David Bowie to hating Queen –  the intelligence and grand ideas are concealed by her welcoming, chipper style that often feels like she's just thinking out loud. It's a thoroughly enjoyable experience, whatever your age.
Review date: 27 Aug 2016
Reviewed by: Steve Bennett
Reviewed at: Pleasance Courtyard
Recent Reviews
What do you think?