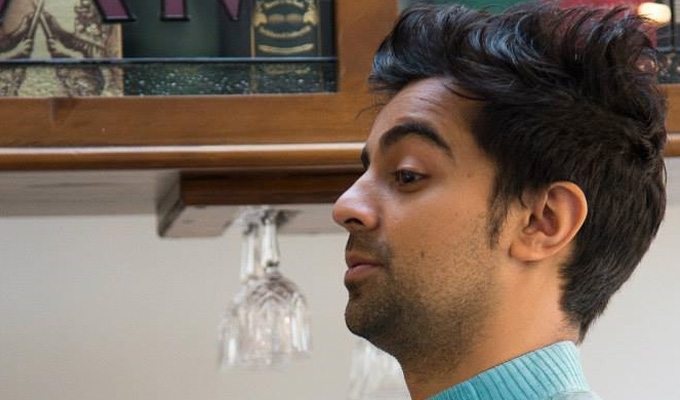 Rahul Kohli: Newcastle Brown Male
Rahul Kohli discusses big issues – often rather superficially, as it turns out – but with an affable, spirited delivery that would get through to the kind of audiences who probably wouldn't otherwise be drawn to an overtly political show.
He's the sort of comic who makes puns out of all the warring factions of the Middle East, however cheesy they might be. There's nothing new on Sunni and Shi'ite, or linking the Gaza Strip to a Geordie footballing icon. And his suggested new name for the Israeli Defence Force is Guns And Moses, an actual comedy band as it happens.
Its not the only time he's a a bit dated: the burning terrorist punched by the Glasgow Airport baggage handler was nine years ago and, yes, all the jokes about reinforcing the city's tough-guy image were done then. So much for 'avoiding the trap of stereotype', as he wants to do. Then there's the joke about Trump having immigrant wives that Frankie Boyle's done about Nigel Farage – and that's already an internet meme.
You might think from this list that Kohli is a dreadful old hack, and, yes, he can be, though his sprightly energy and machine-gun delivery pushes it through with good spirits.
But get him on to first-hand stories, and things pick up immeasurably. He grew up the only Indian growing up on an estate in Newcastle, from a family that hated Pakistanis so much they could empathise with the most common racist insults of the time. Turns out Islamophobia runs in his family.
Kohli – who was named runner-up in the Chortle Student Comedy Award earlier this Fringe – muses too, on political correctness, saying the fight against words is not the real one, which gives him some latitude to crack some dodgy gags then examine our reaction, toying with the unease. But he's a pragmatist, realising that we feel more for terrorist victims in Paris than Pakistan is because of proximity, not because the lives are valued differently.
Again some of the arguments are easy: it's not hard to point out flaws in the English Defence League's philosophy (not that they really have such a thing, or know how to spell it), or pointing out that Islamic State beheadings are bad… No shit!
Some digressions away from race pick up on the anti-feminism messages of Disney's 'happy ever asking' endings, while he engineers an inoffensive rape joke to ram home the message of consent.
But it's on his core subject where he's strongest. And give him a couple of years to build up some more material and an instinct to know when an audience is already broadly on-side (tip: most Fringe punters in his own show will be) and he could shortcut past the easy half of his material to sink his teeth into the meat.
His conclusion that we should all bond with a bigot because we're all bounded by a common humanity is a bit of a naive, idealistic solution. But the lad's only 24… with a curiosity about the world and a supercharged delivery, the comedy world is still his oyster.
Review date: 26 Aug 2016
Reviewed by: Steve Bennett
Reviewed at: Stand 3 and 4
Recent Reviews
What do you think?