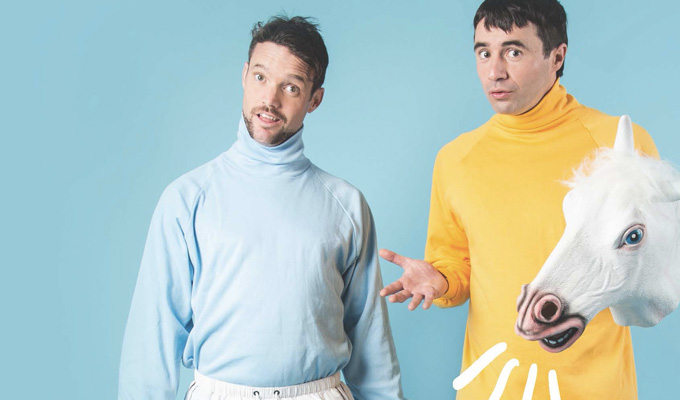 Lords Of Strut: Late Night TV Talk Show
Lords Of Strut fuse dance and comedy in this high-energy show - but while their physical work is tightly choreographed, their sketches are very loose, sometimes to detrimental effect.
But amid all the Knockabout they also have the most gloriously grotesque scene I've witnessed this fringe so far, thanks to a hideous representation of a sexually predatory mother figure. When their excesses pay off, they do so handsomely; when they don't, it feels like indulgence.
Lords Of Strut are brothers Sean and Seamus – in real life Irish performers Cian Kinsella and Cormac Mohally – and they kick things off in vibrant style. Seamus as a priest, Father Billy No-Mates, Sean hidden in a rabbit head on the decks. We all go 'weyo' on the 'boom boom boom' cue and it feels like a party's starting. They are former street performers, who know how to gee up a crowd.
Then, after setting up the talk show premise, they launch into a spectacular dance number for such a confined space, a dynamic opener with some creative visual wit. This is their impressive calling-card.
Over the borderline-chaotic bulk of the show, we meet the likes of the rock – not The Rock thanks to a booking error, a juggler trying to convince us his talent is cool, and Michael Flatley, who gives a TED talk about himself in a dumb drawl before reintroducing a Sean in bin-bag gimp get-up.
It's a deliberately amateurish vibe, presented with the tried-and-tested dynamic of dumb (Sean) and dumber (Seamus, possibly an idiot savant, but definitely halfway there). The knockabout, endearingly silly as it is and built on the Lord of The Dance's vendetta against Cats, doesn't quite have enough to ground it. 'We've got to put some narrative structure into this show,' they admit, but it's the usual cop-out of hoping your problems will vanish if you mention them.
Just as the wheels threaten to come off completely – both in the fictional and actual show – the pair got back to what they do best, deploying their choreography skills for a Bottom-style punch-up of over-the-top slapstick.
Late Night TV Talk Show is actually on in an early-evening slot; though a later one would surely better suit their anarchic style, where tight writing is more easily overlooked for silly fun.
Review date: 23 Aug 2016
Reviewed by: Steve Bennett
Reviewed at: Assembly Roxy
Recent Reviews
What do you think?