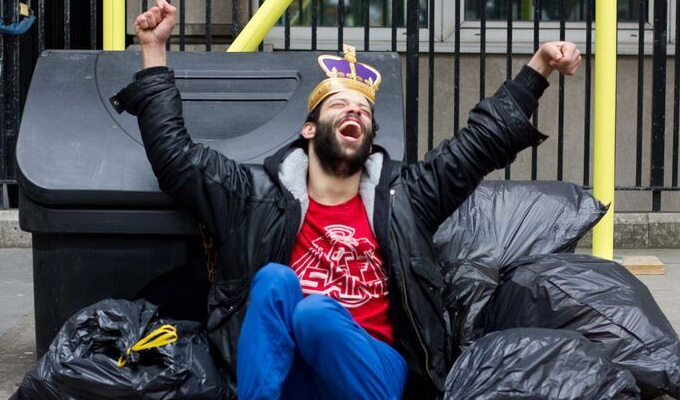 Tim Renkow: King Of The Tramps
Tim Renkow and the grubby nightclub setting of The Hive seem like a very apt pairing. I can't imagine him in the more rarefied environment of the Pleasance Attic doing his routines about race, homelessness and accidentally punching an old lady, for instance. Nor can I imagine him doing any other sort of comedy – he seems to take great pleasure in taking us down into life's unseen corners.
In that sense his third show is in a similar vein to his previous two. He still has the impulse to shock his audience – a couple of times he suddenly says a line that would make Franke Boyle's eyes water, before reversing back to flesh it out and give us the all-important context. And there is a joke about his mum's Parkinson's disease.
But I don't think he's entirely governed by this impulse to shock, though. Most of all he seems naturally drawn to subjects that are resolutely away from the mainstream. When he talks about having sex with able-bodied women, as a man with cerebral palsy, he's very matter-of-fact about it.
The most dominant theme in King of the Tramps is homeless people – some of society's most disenfranchised people. How often do they get talked about in a comedy show? He speaks about being homeless himself and how he befriended a homeless man called Jesus. It's a thread that comes to a delicious conclusion at the end.
He's proved himself to be a quality joke writer since his debut show in 2014, and he's squirrelled a few away in King of the Tramps too. His joke about the dictionary definition of 'racism' is one of the funniest I heard at this year's Fringe, and among the other pearls is a line about the seat on the Tube intended for pregnant women or disabled people.
Not all of it lands, though. A few jokes were over-written and dulled the impact, which is a very unlike him, and the material on him using his disability 'for evil' in a shop and on a train feels a bit like an easy laugh.
But otherwise, he's starting to feel like an indispensable part of the Fringe.
Review date: 21 Aug 2016
Reviewed by: Paul Fleckney
Reviewed at: Heroes @ The Hive
Recent Reviews
What do you think?