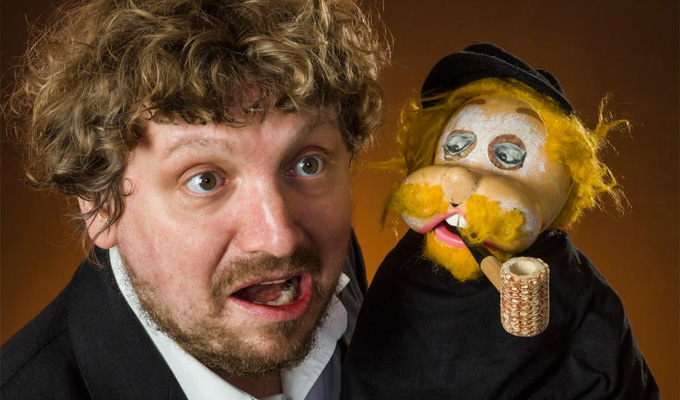 Twonkey's Mumbo Jumbo Hotel
Artistry and eccentricity combine in Twonkey's world. He's a grown man who plays with dolls to spin a convoluted and surreal story which – after a lot of confusion – turns out to be about a bizarre hotel, complete with giant baby's face embedded into its facade, that's threatened with demolition to make way for a bland retail park.
Mumbo Jumbo Hotel requires the audience to completely buy into this absurd alternate universe, where very little makes sense, and Twonky, aka Paul Vickers, makes no concession to making that easy. It was certainly too much for a couple of well-lubricated punters on this occasion, but even stone-cold sober it can be baffling.
The tiny studio room is littered with old wooden puppets – the bullet-scarred duck could give you nightmares, if the evil Christmas elf doesn't – and there's a diorama of the hotel, featuring figurines of characters such as Drunk Welsh Anne and a creepy mystic on the table.
Odd scenes and fragments of stories have nothing to do with the main narrative: like a Pinocchio being fashioned from a piece of wood in acknowledgement of Vickers' first showbusiness job playing Geppetto, which he sets up as a story of teenage regret. Then there's the Romanian finger puppet show and a ship's wheel draped with knickers for moments of audience interaction.
Mr Twonkey sounds like the name of a bygone kids' entertainer, and Vickers looks the part, too, with a mop of curly hair atop a gentle face. He's wearing what could be an admiral's formal jacket, and is shambolic in his performance: props get tangled up, he messes up sound cues, and is forever demolishing his hotel scene.
Yet the low-key charm befits the gentle whimsy. And the prog-rocky music that fills between his peculiar scenes is delightful. Vickers is also lead singer of cult Scottish indie band Dawn of the Replicants, a John Peel favourite, and so several notches above the average comedy musician, however strange his lyrics.
Mumbo Jumbo Hotel is not an easy sell – as evidenced by the fact that after seven years of Fringes he's still playing to a small audience, several of whom know him – and audiences do have to indulge a lot of peculiarities in both the setting-up and telling of the tale.
But take that leap of faith, and the dreamlike scenario he sets out in his very distinctive way makes a lasting, haunting impression. It's a proudly eccentric show likely make you smile more than laugh out loud, but if a nonconformist can't find a home at the Fringe, where can he?
Review date: 19 Aug 2016
Reviewed by: Steve Bennett
Reviewed at: Sweet Grassmarket
Recent Reviews
What do you think?