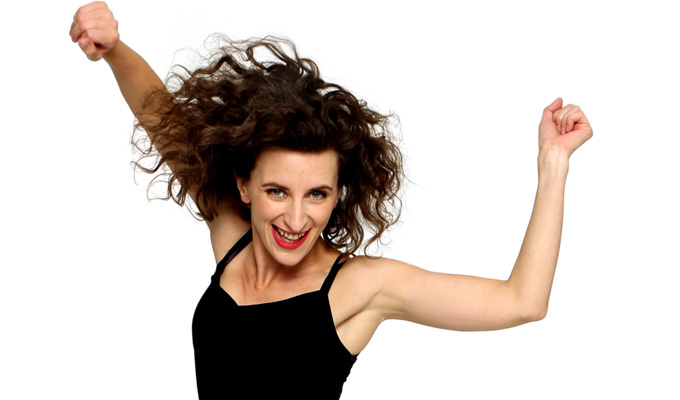 Felicity Ward: 50% More Likely To Die
Amid all the big issues being tackled by comedy, this is an hour-long show about that time Felicity Ward left her bag on the bus.
No, wait! That's actually a big deal for a comic with anxiety issues, which she revealed in her whirlwind of a 2015 Fringe show, What If There Is No Toilet? This follow-up is no less personal and no less joyously manic, but wider in scope, taking in the perils of long-distance relationships, her dad's misfired attempt to tall a joke, the British mastery of passive-aggression, makeover shows, women's tailoring and a lot more besides.
The mental health angle is still strong, but Ward's daft, vivacious delivery takes any edge off it, as aways. And besides, she's managing it better now, as proved by the fact her bag loss was not considered a world-ending catastrophe, despite it containing her laptop and the headphones that gave her a smug feeling of superiority.
Depression is said to be as bad for your health as smoking, leading to the headline figure Ward's appropriated for her show title, meaningless as it is. And, of course, it's more widespread than people think – prompting Ward to empathise with cat-calling builders who might be battling their own demons, against her initial judgment.
From the everyday observational to the weightier topics, Ward blasts through it all with a supercharged energy and an hilarious physicality as she mocks herself and her foibles as vigorously as she does everyday life.
There's a looseness to the performance, too, with a cheery to-and-fro with the audience. A discussion with the front row about whether swimming pools really contain a chemical dye triggered by pee, or whether it's an urban myth, has Ward shrieking with concern, her reaction typical of the way she doesn't filter her emotions.
Then there's the chicken karaoke, where she squawks songs suggested by the audience. It sounds a bit flimsy, but her spirited take on Total Eclipse Of The Heart, as suggested by one genius, was one of the most ridiculously funniest moments you'll ever hope to see. Yes, laughing at a woman with mental health issues screeching like a chicken is what counts for top-notch Fringe entertainment in 2016.
But with her command of high-octane performance (there's even an air horn which she gleefully triggers as the modern-day equivalent of the rim-shot on the drums), her potent mix of the absurd and the profound, and her deft anecdotal wit, Ward delivers another barnstormer of a show.
Review date: 17 Aug 2016
Reviewed by: Steve Bennett
Reviewed at: Pleasance Courtyard
Recent Reviews
What do you think?