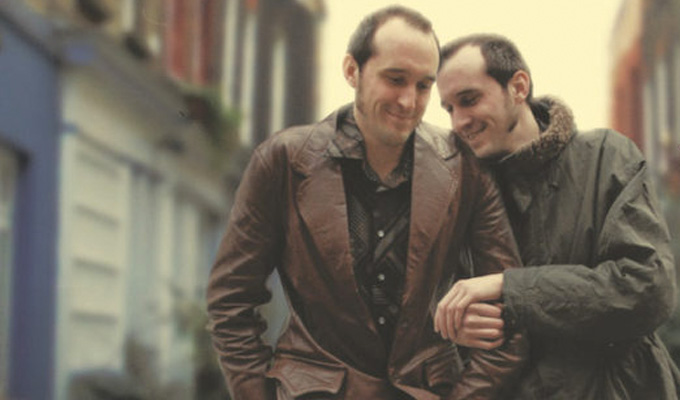 Phil Ellis Is Alone Together
He filled and he filled and he filled. Phil Ellis – he of the award-winning Funz And Gamez – is well-versed in doing an hour of larks and anarchy, and I'm a fan of his. But when it came to that line between 'giving yourself room to have a play' and 'doing anything to get up to the contractually agreed time', this show was on the wrong side.
The starting point is that Ellis's wife left him for an improviser eight years ago, and he's definitely, definitely over it, and he wants to show us how. He's taken up hobbies, sort of got on telly, gone dating, that sort of thing. What he has prepared usually works well – his tampered-with videos to make him look more successful than he is is just the sort of inspired idea you expect from him. His big stunt, which I won't spoil, is equally joyful and funny, and is the last straw for the heart-broken Ellis.
Alone Together just needed some more of this, as he spent far more time clutching at straws with the audience than anything else. That's not to say he didn't strike gold on occasions, such as his tyrannical reaction to someone trying to go to the toilet, and his insistence that a doctor fix his back with a massage. His total commitment to the cause was very funny. Repeating his opening dance three times came from the same place, comedically, but didn't work as well as it wasn't strong enough to do three times, and it didn't gain anything in the repetition.
Watching Ellis in Alone Together reminded me of watching Patrick Monahan, despite being very different sort of comics. Both of them have had me wondering when they're actually going to start the show. Monahan probably has a better strike rate with the audience chat though, as Ellis ran into several comedic blind alleys on the day I saw him. But then, it seems he set himself the task of letting the crowd work do the heavy lifting, so this was always a risk.
It's all performed with his Eric Morecambe-esque smirk and stoicism among the chaos, although even that seemed a bit unearned. The wheels have to be going in the first place before a comic should refer to the wheels coming off, which Ellis was doing from the get-go.
It felt to me like a show that had had a section cut very recently. With a few more prepared pieces it could be a blast, but as it stands it's a bit of a waste of his talents.
Review date: 17 Aug 2016
Reviewed by: Paul Fleckney
Reviewed at: Underbelly Cowgate
Recent Reviews
What do you think?