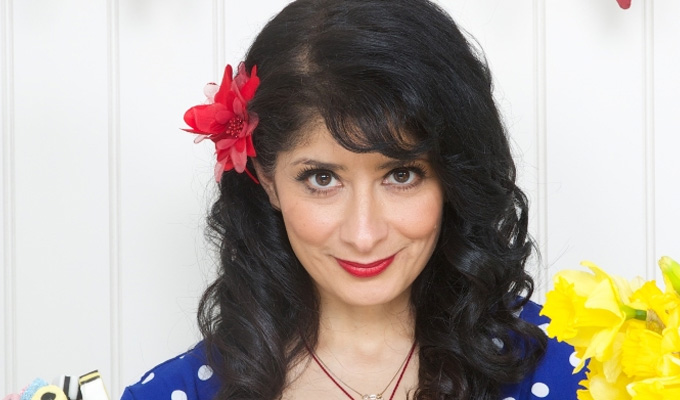 Shappi Khorsandi: Oh My Country!
Note: This review is from 2016
At the height of the referendum scaremongering, Michael Gove notoriously said we've 'had enough of experts'. Though we actually had enough of people spouting heir very narrow definition of what Britain, or England particularly, means – especially when it excluded anyone not like them.
Well, Shappi Khorsandi thinks she has a right to talk enthusiastically about England, since her Iranian background allows her to say: 'I love my country' and drape herself in the flag of St George without the racist baggage. Though she admits it may be folly to launch a love letter to England while in Scotland, and at a venue owned by SNP MP Tommy Sheppard.
Cultural differences growing up and her assimilation without losing sight of her heritage have been staples of Khorsandi's material ever since she emerged on the circuit, as well as the basis for her book A Beginner's Guide To Acting English 'available in all charity shops,' she jokes. But the Brexit vote, and the rise of the far-right across Europe, has given her more passion, urgency and relevance than ever.
She knows the negative sides of English small-mindedness, such as the skinheads who spat racist abuse at her when she was still a child, or the way 'Irish' was once uses as a synonym for thick – a hard thing to explain to her Iranian father. Despite that, she came to discover an England she could love – thanks, Billy Bragg – and this is an upbeat celebration of the land she absolutely calls her own, revelling in its politeness and its freedoms we can take for granted, without shirking from the truth that not every immigrant has had such a happy passage as hers.
As English as she is (just listen to that RP accent), she wouldn't want to deny her ancestry, and the two sides of her personality neatly separate out via her children: her unflappable, polite, repressed eight-year-old son against her fiery ululating melodramatic three-year-old daughter. I probably don't need to say which is the English and which is the Middle Eastern side. And Khorsandi plugs into that dramatic Iranian DNA to perform the hell out of any segments that warrant it, a counterpoint to her friendly, buoyant 'jolly hockey sticks' default.
Her direct experiences don't just relate to her birth and a childhood migration beyond her control. To pick up some first-hand experience in these the inflammatory times she's been on anti-racist marches and visited the Jungle refugee camp near Calais, where the asylum-seekers' stories couldn't be further from her warm acceptance into Britain. Such contact gives her extra stories to bolster the documentary sides, as well as jokes to sugar the message, which she delivers with typical gushing charm and puppyish charisma.
And the payoff, when she finally realises she's been accepted as English in the most unlikely of circumstances, is surprisingly heartwarming.
Review date: 14 Aug 2016
Reviewed by: Steve Bennett
Reviewed at: Stand 1
Recent Reviews
What do you think?