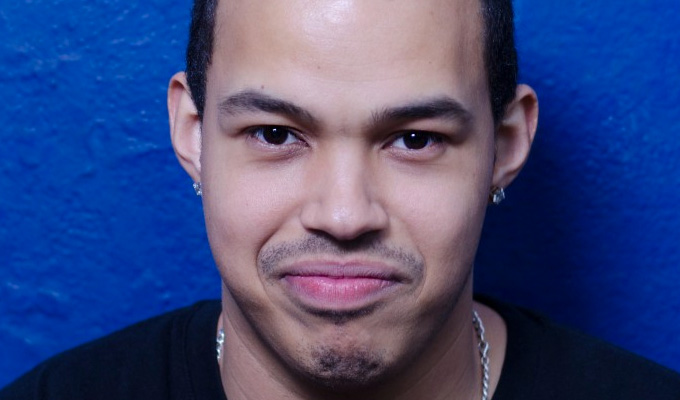 Archie Maddocks: Shirts vs Skins
Shirts vs skins is not, Archie Maddocks is keen to point out, about his sporting prowess. Rather it's the pressure he finds as a mixed-race man to 'pick a team' in what he often feels like a binary world of black or white.
Race is a definition he keeps banging into whether he likes it or not; from the American guy who told him 'you ain't black' on hearing his British accent, to feeling out of place among the white Limp Bizkit headbangers, to being told on a climbing wall that black men can't ascend. (He meant literally, though the metaphor is strong).
So the topic is a useful framework to give context to a broad range of first-hand anecdotes about encounters he's had that are either odd, or he makes odd in his description, very much the dominant style in contemporary comedy. You can see the affable Maddocks fitting very easily into a TV stand-up show.
For he's personable, lively and very fast-talking – attributes that stood him in very good stead when battling a hugely disruptive audience at this performance, including, but not limited to, a Russian woman so drunk she couldn't comprehend where she was, good-natured walkouts from a group of friends deciding food was more important than comedy, and a man who randomly shouted out, 'ananas' – French for pineapple – mid-joke.
Though the odds were stacked against him, Maddocks persevered with his material, though even in this odd atmopshere he needn't keep pointing out that gags deserved more: those who laughed would think him ungrateful and those who didn't would think him arrogant. Nonetheless, he said the words: 'That's a nice line. I wrote it myself. You're welcome' often enough that it seems like a catchphrase.
Indeed, there are many neat gags in the show, though not quite enough for a constant stream of laughs, while the stories never coagulate into anything of great substance. Despite the underpinning theme, it's really a succession of similar-ish yarns, which leads to a rather flat tone over a full hour.
He also reaches his conclusion about three-quarters of the way through the show, leaving him killing time with more of the same in the home straight.
However, there is a corking, almost cinematic, story about a run-in with an old-school Vegas mob boss here, which shines whatever it's relevance to the topic in hand. Other stories of bizarre instances of racism (as if all racism isn't bizarre) come with a deft touch, although there are other things he could probably delved into further: his time at the London school dubbed a jihadi training camp after nine of its pupils fled to join Islamic State prime among them.
Still, this is an upbeat hour of sprightly fun with a bit of substance; Maddocks could just do with varying the texture a little more.
Review date: 8 Aug 2016
Reviewed by: Steve Bennett
Reviewed at: Laughing Horse @ Espionage
Recent Reviews
What do you think?