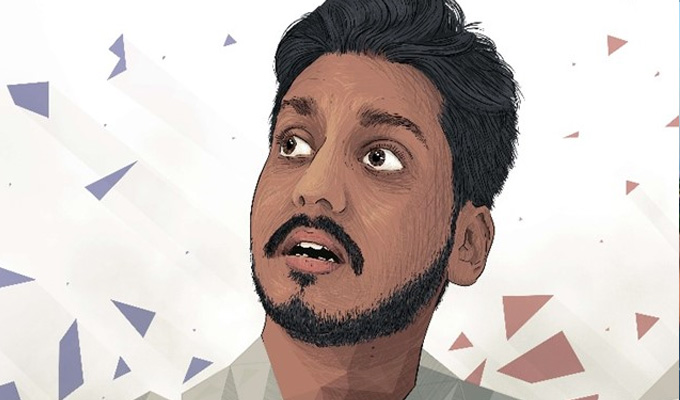 Ahir Shah: Machines
An hour in the company of Ahir Shah will make you feel smarter, like you've read several books on social science in one intense mind-scrambling session.
He starts from the premise that we all live in a 'hyperconnected yet atomised' world, aware of horrors and inequity but so increasingly isolated and impotent to be able to do much about it. The rise of insular politics, from Trump to Ukip to various far-right European parties to the nationalistic Hindus in India, is clearly a worry, especially after the Brexit vote.
As well as causing a late rewrite of Shah's show, the referendum arguments raise questions of democracy, of racial tensions, of the sustainability of the welfare state and the NHS without an influx of younger people to pay their taxes and staff the hospitals – a lot of this personally relevant for Shah as the grandson of an Indian immigrant who arrived from India with just £3 to his name.
And all that barely scratches the surface of topics packed into this dense and wide-ranging polemic, delivered with conviction and wit. But the sheer amount he ploughs through inevitably means a trade-off for the funnies, as does the inherently serious nature of the discourse.
This is always going to be his lot, however eloquent the writing and however compelling the performance. He scores on both those counts, and well he knows it, with a couple of boasts about his talent that come across as smug, a trap this former Cambridge Footlighter is at constant risk of falling into. Still, he has enough self-awareness to address that with the odd flick of humanising self-deprecation, too.
Driven by the need to cover so much ground, his oratory builds up a great head of momentum to propel you into his thoughts; with the rhythms and release amplifying his finely crafted turns of phrase for maximum rhetorical and comic clout. It's almost poetic, the way he exposes political folly, unearthing laughs in the way we have screwed up on great ideals. For all the highbrow grandstanding, this is the comedy of human failings, as all comedy is.
All Shah's intellectualising was given sharp focus in November last year when he was gigging in the 10th arrondissement of Paris, on the day terrorists struck in venues including one very close to his. The visceral horror of that gives his show a relevant, personal and dramatic climax.
Normally political shows have a strong takeout message, an inspiring call to arms. But Shah's is that the world is complex and difficult and we're all muddling through, compromising ideals for pragmatism. Though with his book-smarts and his eloquence, he is muddling better than most. And anyway, it's always those who think they have a simple answer that we should be watching out for.
Review date: 8 Aug 2016
Reviewed by: Steve Bennett
Reviewed at: Laughing Horse @ Cabaret Voltaire
Recent Reviews
What do you think?