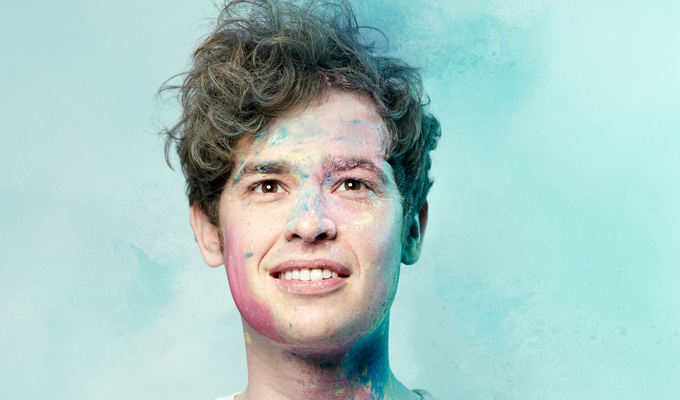 Brennan Reece: Everglow
With boyish energy, a beaming smile and engaging camp, Brennan Reece almost feels like he's been made to fill a youth-skewing hole on ITV2 or E4. His logo – for what brand-conscious comedian is complete without a logo? – is designed from his hairstyle, and he has the same sort of optimism and joie de vivre that first brought Russell Howard to attention.
Yet that telegenic stereotype doesn't fit him not quite. There are times when he injects unexpected romance and meaning into his writing, influenced, perhaps, by Daniel Kitson. And there's a raw, heart-rending finale in which he really puts himself through the emotional wringer, that gives a hefty tug on the soul.
The upshot is that Everglow feels like the work of a comedian at a crossroads between broad, accessible, generic work and more thoughtful, nuanced – and, let's face it, less economically viable – art, but both aspects delivered with puppy-dog enthusiasm.
Much of the content of this first full-length debut is broadly familiar from plenty of other young beta-male comedians with not too much life experience but the sure knowledge they don't fit in with the 'ladz on tour' masculinity of strip clubs, gyms and binge drinking. He complains about a society in which fellow young men get their ideals of behaviour from the internet, picking up from porn culture a vain desire for beefed-up bodies and a neanderthal attitude to women – who in turn paint themselves orange and draw on their fake eyebrows.
His dad has an old-fashioned sort of masculinity too, uncommunicative about his feelings and hiding away in his shed. This is definitely a world in which softer men like Reece are dismissively labelled 'poofs'.
Though this is common ground, Reece has eloquent ways of expressing his outsider status, and how he wants to maintain his carefree childhood optimism – the Everglow of the title – against the more repressed, mundane life of an adult. There's an attention to detail in much of the writing, as he works hard to evoke a scene or a sentiment, which frequently erupts in an eloquent turn of comic phrase.
Likewise, he's paid careful attention the simple but effective staging, recreating in the Pleasance Bunker his parents' front room with old-fashioned TV, dated furniture, chintzy china and Northern Soul LP sticking out of the magazine rack, a totem to the time they met.
It all adds a touch of class to what can be pretty safe material. As does the attention to structure, with his routines building up to the rousing speech, complete with stirring soundtrack: emotionally manipulative, maybe, but again effective – and that's not the last time he'll toy with your feelings.
Whether Reece decides to exploit his marketability or his artistry in future, this is not the last we'll hear of this young comic, who already has an English Comedian Of The Year title to his name.
Review date: 7 Aug 2016
Reviewed by: Steve Bennett
Reviewed at: Pleasance Courtyard
Recent Reviews
What do you think?