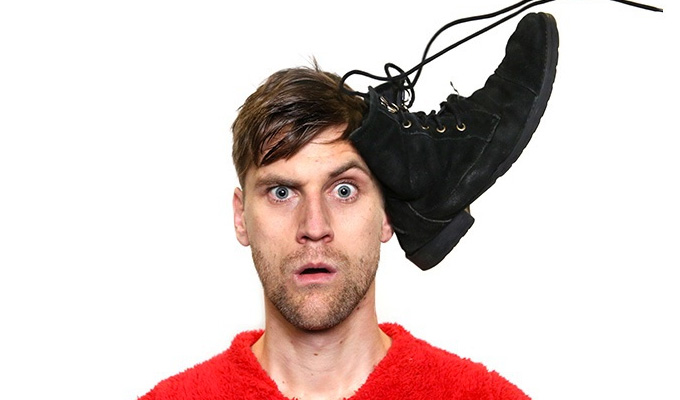 The Weaning Of Life
Gaulier-trained clowns are the Japanese knotweed of comedy. Once introduced into the ecosystem they get everywhere.
Australian Luke Nowell is a perfectly serviceable example of the genre, but he is not, as advertised, offering a 'unique brand of physical comedy'. Instead, he offers slight twists on techniques you'll see a lot of this festival.
He starts, like many of his ilk, unseen by the audience; although his device is imaginatively avant-garde: writing around the floor in a giant cocoon (or sleeping bag), eventually poking his fingers out like antennae. No one, not least the front row, knows quite what to make of it. Then there's the blackout and… ecce homo: our man, in the furry red playsuit that's his uniform, give or take, for the rest of the show.
What follows is a series of physical comedy sketches with Nowell remaining a mime – save for a few words of nonsensical language – throughout. The audience are gently cajoled into playing along sometimes, but nothing too intrusive, just the need to envisage a prop or two as more than they really are and buy into the premises being played out.
Some of the skits smack of drama school: acting exercises playing with what he can do in the space, with the audience or with timing – sometimes using theatrical techniques such as moody ambient music to suggest some gravity, though playing for silliness is more successful,
What we don't get is much of a sense of the personality his clown alter-ego; these are merely a series of encounters – usually charming and whimsical, but without a strong, defining character behind them.
There's a conductor sketch that brings to mind early Rowan Atkinson – no bad thing at all – but runs out of steam before its conclusion, and it's not the only one. And his doddery pensioner is no match for Julie Walters's, and with less purpose; he's just supposed to be funny 'cos he's frail until a predictable, but dramatically done, punchline.
The Weaning of Life is perfectly fine if you haven't seen much of this sort of thing, and the hour zips by pleasantly. But it also seems like a Lite version of the genre when there is no shortage of more substantial, funnier, or more boundary-pushing examples around this Fringe.
Review date: 6 Aug 2016
Reviewed by: Steve Bennett
Reviewed at: Laughing Horse @ The Mockingbird
Recent Reviews
What do you think?