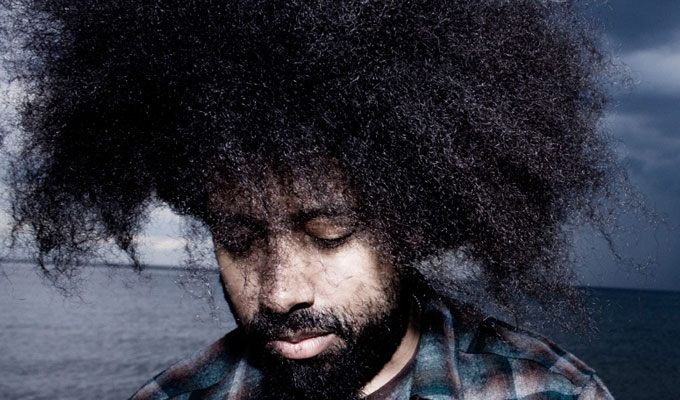 Reggie Watts at Latitude
During one of his tracks, Reggie Watts stops singing and jives along to a tune that's still playing only in his head. You couldn't want a better metaphor for a comedian who dances to his own beat.
His patter is like a jazz improv, riffing loosely on a theme until he latches onto something that might stick. On a flying visit to Latitude before heading down to a gig on London's South Bank tonight, he mused on everything from Britain's new Prime Minister (she's quite tall and has good hair was the extent of his political insight) to sunscreen tips for this sun-drenched festival to how we will all be walking around in haptic feedback suits within a generation so we can interact tactilely with our holographic offspring. Yes, it's that mundane and that weird, often within the same meandering brain dump.
Large tracts of this just aren't particularly funny, you have to allow the rhythms and half-formed ideas to lap over you until he stumbles into an actual gag or nicely distilled thought. If you're impatient for laughs, it can be pretty frustrating; if you can accept the concept of ambient comedy that needs no real purpose, Watts is in a category of his own. It's hard to square this avant-garde approach with his day job as bandleader on James Corden's US talk show.
Watts's musical numbers are more of the same – how much is planned or ad libbed is not clear, though  the lyrics twist and turn as he explores a concept. One about England's early history, from henges to Boudica, took a left turn somewhere along the route to be about ginger people, which he claims some shared heritage. 
However, with his loops and his stunning vocal talents, from the beats to a perfectly on-point London laddish accent to convincing sound effects, the tracks (mostly) soar into something quite special; more than just gimmickry both vocal and technical and into to tunes that stand up on their own merit.
Review date: 18 Jul 2016
Reviewed by: Steve Bennett
Reviewed at: Latitude
Recent Reviews
What do you think?