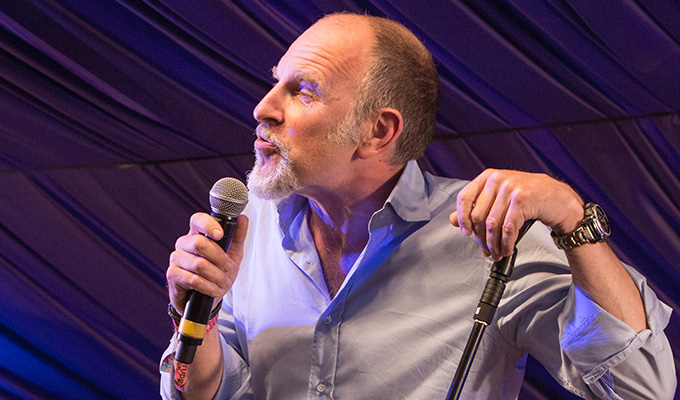 Simon Evans at Latitude
Latitude has a not entirely undeserved reputation for being the most middle-class of all festivals, so Simon Evans is right at home with this audience. Though he thinks he's better than them. Of course he does, that comes with being middle-class.
Though snooty, he's fully aware of his privilege, able to mock the chi-chi existence of his social group even more than he can look down at the bawdy hen nights who blight his home town of Brighton and Hove, itself a city divided by class.
While he can rage against the pretensions of food – from organic grow-your-own to the florid descriptions on overpriced restaurant menus – he finds himself increasingly conforming to stereotype, and hating himself for it. How did he come to have an expensive dog who eats canine cordon bleu rather than scraps from the dinner table? And look how mollycoddled his son is, too. Though Evans can also look at his own childhood and see how cosseted he must have been himself, compared to the upbringing of his war-child father.
He has come to parenthood late, which amplifies his reaction to it; neither angry nor mystified by most of this state of affairs, more resigned to accept the fact that life has changed forever: he's become a slave to his son, while his house is now less a home and more what he calls a 'small, badly-funded correctional institution'. His skill is being able to pinpoint  so accurately just how the world has changed in just a couple of generations, at least for those who have a reasonable amount of money.
He knows that might be a distant dream for the next generation,certainly via home ownership. But the comic, who is just about to embark on his second series about economics for Radio 4, offers a positive spin on renting; taking as his example the French who shun ownership – as that'd just be an asset to lose in the inevitable divorce.
As well as his unique, and astute, societal insight, what really makes Evans's set is his remarkable use of language. He's not affecting the casual conversational style of most stand-ups; there's no pretence that this is not written, his routine being so packed with lyrical, eloquent phrases. It throttles the laugh rate a little, because of such elaborate constructions, but when they come they are big – and especially from those who have first-hand understanding of his lot – precisely because of that dense build-up of ideas and opinions.
Review date: 18 Jul 2016
Reviewed by: Steve Bennett
Reviewed at: Latitude
Recent Reviews
What do you think?