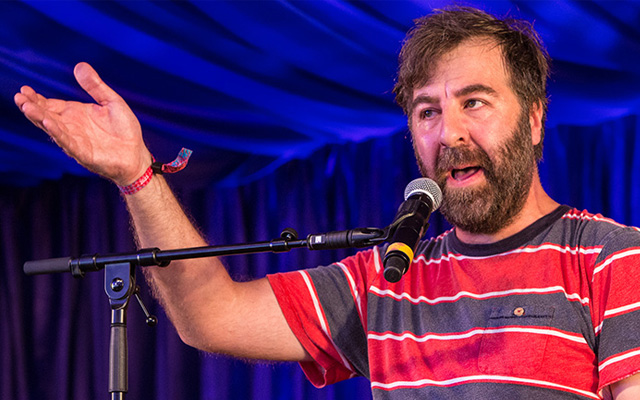 David O'Doherty at Latitude 2016
Note: This review is from 2016
David O'Doherty's been starting his tour dates – Latitude included – by faux-boasting how this time next year, he'll be huge. Blowing off gigs like this to perform to tens of thousands, and act like a bigger prick than Kanye.
All very ironic, of course, a comic set-up before he acknowledges the niche appeal of a bearded middle-aged Irishman playing a tiny keyboard.
But why shouldn't he be universally adored? Though he started his comedy career as something of a cult, there's little in his current, masterful set that shouldn't appeal to a wide demographic. O'Doherty opens with a volley of smart, sharp gags that could be shared around any office before widening into more considered observational material, and all punctuated with his jaunty, quirky songs.
There's a point to all this, too, though it's far from laboured. What begins as some easy mocking of lives curated via Instagram, full of arty shots of typewriters and avocados, becomes a gentle but insightful discourse on the nature of happiness. Does following the as-advertised ideal life of brunches, artisan coffee, Pilates and Nutribullets really lead to contentment? What if he hadn't followed his comedy dream and remained in his telemarketing job – could trading the highs and lows of performing for a  simpler, more commonplace, existence be just as fulfilling?
His thoughts are brought to life with unique, eloquent and distinctively funny writing:  just witness his list of alternative names for the pizza wheel, delivered as a throwaway aside, for evidence of that.
O'Doherty diverts from these trains of thoughts a couple of times. He mulls with wit and family experience the damaging effects of Ireland's historic monoculturalism (when he was born in 1975 the nation was 96 per cent white Catholic); and paints a charming picture of the rituals of a primary school class barely related to the main thread.
But overall, the tone is summed up his closing song, Life, with its message that our time on this planet is a series of unavoidable terrors and 'oh, maybe things are all right after all' moments before our inevitable decay and death. It's essentially bleak nihilism – but rarely is futility so jaunty. 
Review date: 18 Jul 2016
Reviewed by: Steve Bennett
Reviewed at: Latitude
Recent Reviews
What do you think?