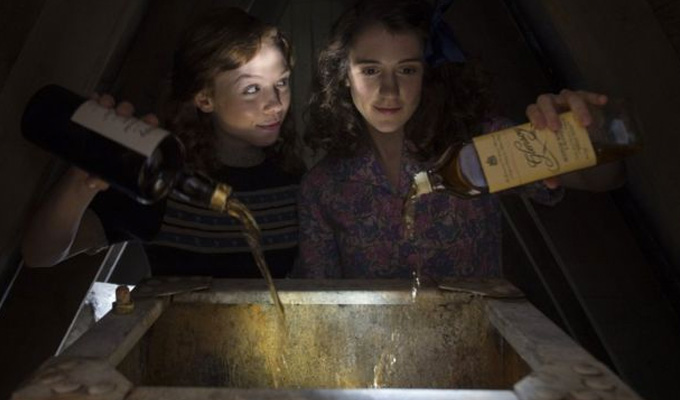 Whisky Galore!
Note: This review is from 2016
Why remake a classic? Along with Passport To Pimlico and Kind Hearts And Coronets, Whisky Galore! defined Ealing Comedies as the gold standard when they were released in 1949.
Indeed Pimlico, with its overt themes of isolationism and rebellion against the Government, now seems a far more apt tale to revisit in Brexit Britain than that of the roguish inhabitants of the island of Todday, who are ultimately only gently defiant of the Establishment.
Starring Eddie Izzard as the by-the-book, English Home Guard commander Captain Wagget and Gregor Fisher as the wily postmaster Macroon who leads the Outer Hebridean islanders in confounding him, Gillies Mackinnon's 2016 update is an amiable enough 90 minutes of whimsy that adds nothing to Alexander Mackendrick's original.
Todday is an idyllic, quaint and quiet place in 1943, largely unbothered by the war - until rationing runs the island dry of whisky. For the male islanders especially, the absence of the water of life is a heavy blow and a fog of depression envelops them.
Happily, a more literal fog then wrecks the SS Cabinet Minister off their coast and a concerted communal effort liberates hundreds of crates of whisky before the vessel sinks.
On-leave English soldier Sergeant Odd (Sean Biggerstaff) is encouraged to turn a blind eye to the islanders' plunder if he is to marry Macroon's daughter Peggy (Naomi Battrick), while timid schoolmaster George (Kevin Guthrie) must screw up the courage to defy his battleaxe mother to wed the postmaster's other daughter, Catriona (Ellie Kendrick). The suspicious Wagget is quickly on to the islanders' pilfering and sets about trying to find their stolen hoard with assistance from the dreaded Customs and Excise.
Mackinnon has recreated the cosy warmth of the original and the fictional Todday looks delightful. But writer Peter McDougall shows a lack of faith in his story by adding an entirely superfluous and inexplicable sub-plot about the ship carrying a briefcase with indiscreet love letters from Edward VIII to Wallis Simpson. As a mysterious new arrival to the island, Brown (Michael Nardone) starts making enquiries about the briefcase's whereabouts, he adds a jarring, slightly sinister tone and undermines Wagget's role as the main antagonist.
Izzard strives hard as the buffoonish captain and is given great support by a perfectly cast Fenella Woolgar as his plummily posh wife who yet retains creeping affection for the islanders. But he's simply not convincing in his Mainwaring-esque bluff and bluster. Occasionally, a line in the script allows him to channel all those self-entitled, flag-planting English imperialists of his stand-up. But these are few and far between and he lacks the finely-judged earnestness and authority of Basil Radford's original portrayal.
Frustratingly, John Sessions, who played Arthur Lowe so marvellously in the BBC's comedy-drama about Dad's Amy, We're Doomed!, is underused here as the cantankerous Doctor McLaren, when his impotent fuming might have been better distilled into Waggett. Similarly, James Cosmo is appealingly thunderous as Minister Macalister. But the chance to develop the religious tensions in the source material, Compton Mackenzie's 1947 novel, largely absent from the first film, are underdeveloped here too, beyond Macalister's booming exhortations not to loot on the Sabbath.
More Para Handy than Rab C Nesbitt, Fisher is reliably craggy and crafty as the widower Macroon, with his watery-eyed self-pity at the loss of his daughters a sly acknowledgement of the sentimentality of the tale as a whole. The ensemble of islanders includes a who's who of Scottish sitcom supporting actors, including Bob Servant's Anthony Strachan, Rab C Nesbitt's Sean Scanlan and Brian Pettifer, as well as Still Game's Matt Costello, a decent blend of quirky oddballs.
Amid all these, the standout turn comes from Guthrie as the mouse finally roaring at his domineering mother, wildly emboldened by the magical liquid fire in his belly.
• Whisky Galore! closes the Edinburgh International Film Festival tonight, at 5.15pm at the Festival Theatre and 8.45pm at Filmhouse 1.
 
Review date: 26 Jun 2016
Reviewed by: Steve Bennett
Recent Reviews
What do you think?