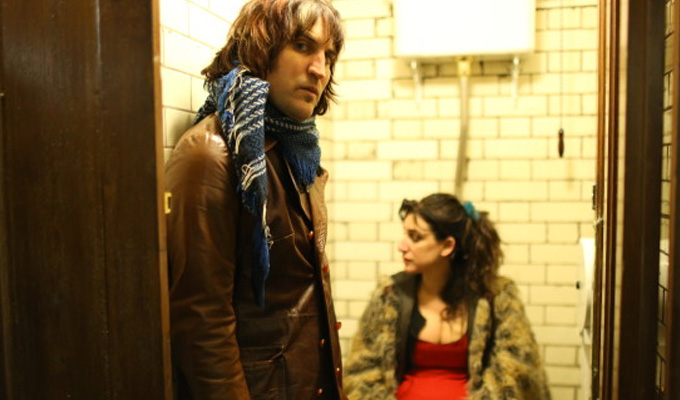 Movie review: Brakes
Note: This review is from 2016
◼ BY JAY RICHARDSON
An unsparing, bleakly funny film about the waning of nine relationships across London, Brakes is the directorial debut of actor Mercedes Grower. She also writes, produces and stars alongside an impressive cast of comedic and dramatic talent, including Noel Fielding, Julia Davis, Julian Barratt, Seb Cardinal and Steve Oram.
The simple but effective premise is that the film is split into two halves, with the second shown first, chronicling love's demise, followed by briefer, sweeter scenes of the couples getting together.
Grower appears in one of the darker episodes. Her character, Layla, is heavily pregnant, by Daniel she insists, who's played with a slightly sinister air by Fielding.
Drawing on the Mighty Boosh man's magical manchild shtick, Daniel kicks his football around in the snow, taking it everywhere – a crutch he can't do without. But it's not just the fact that he works in a Soho sex shop that makes him unsettling. Clearly, he and Layla have dependency and narcotics issues. And Daniel, perhaps burnt before, is keener to engage with his ball than her.
When you ultimately see their initial courtship, you can appreciate the boyishly persuasive and offbeat charisma that attracted her. Except now his persistence feels like it has an immature and predatory edge.
By contrast, Barratt's Elliot is clearly delusional in his infatuation with the regretful Ray (a fine foil in Oliver Maltman), following their drunken entanglement in Barcelona.
But there's an underlying innocence and joy to his stalking, culminating in a childlike instance of love tokenism with ice cream. Ostensibly the creepiest character, who pursued his desire from one country to another, Elliot is actually the least calculating and most genuine, murmuring verses as his tender looks convey his devotion.
Several other characters have artistic vocations, ranging from performance poets to conceptual artists. Like Ray, Davis's Livy is an actor. But a markedly less successful one to judge from her bludgeoning of accents.
Infidelity seems on the cards as she rehearses with the self-regarding Karl (Cardinal in typical luvvie mode). But there's a more complex personal/professional tie unravelling between her and producer Alan (Peter Wight). As with her best work, Davis captures the grotesqueness and vulnerability of her character with great economy in a single wild-eyed look or desperate gesture. And it's her episode that finds the most striking balance of humour and pathos.
Others are simply snapshots, of fault lines built on class, between a businesswoman and a builder; of alcoholism becoming an unbridgeable barrier; or a couple maturing at different speeds, as portrayed by Paul McGann and Kate Hardie, who complain of successive temporary breakups with the exhaustion of prizefighters hugging one another as they listlessly circle together.
Some are less successful. The artist who invests herself in an easily bored stranger is difficult to engage with, while the faltering of John (Oram) and Maeve (Kelly Campbell) over Skype is infected by its own technological alienation.
The most moving breakdown belongs to the oldest couple, Brinie (Kerry Fox) and Rhys (Fine Young Cannibals singer Roland Gift), whose mutual, long built-up resentment sucks all the air out of their stylish apartment, when once they'd twinkled like besotted teenagers.
Lighting harshly and shooting with a handheld camera, Grower has sought to capture a knowingly voyeuristic atmosphere. And she keeps the dialogue restrained when there's opportunity, the better to capture what the lovers are thinking.
Sad but understatedly, sometimes twistedly funny, it would be interesting to see if Grower brings a similar aesthetic and mood to Sailor, a sitcom she has in development with Sundance TV.
• Brakes is screening as part of the Edinburgh International Film Festival, at Cineworld tonight at 8.55pm and on Sunday at 6.10pm at Filmhouse 2.
Review date: 17 Jun 2016
Reviewed by: Jay Richardson
Recent Reviews
What do you think?