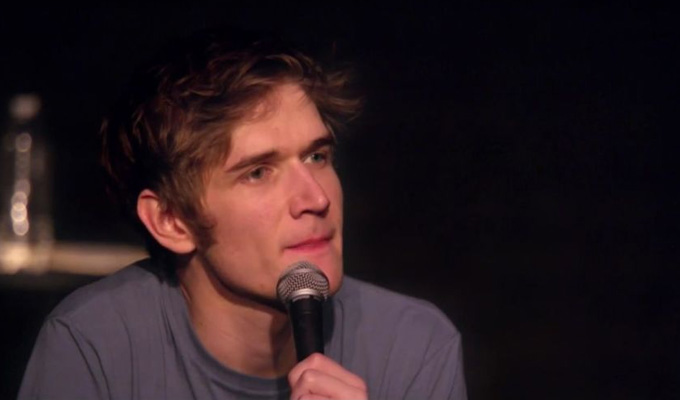 Bo Burnham Make Happy
Analysing comedy has never been easier. Stand-ups, whether for fear of being taken out of context or not having their art properly appreciated, increasingly tell the audience explicitly what they are doing, what their motivations are and what themes they are exploring.
Coming into the home straight of Make Happy, Bo Burnham states of his show: 'It's about performing'. For this is his only frame of reference: a still-young man of 25 who's been a professional comic for almost a decade.
But he's not unique. He was, he said, brought up to believe in the 'cult of self-expression', part of a generation that is crushingly conscious of their sense of self, and demand to perform, to be heard. Hence social media.
However, elsewhere he also says 'I'm not honest for a second up here. You want an honest comedian? See the rest of them.' So maybe we can take this rare burst of introspection, insightful though it is, with a handful of salt.
What is beyond doubt, though, is that it is all about performance in its execution: from the big rap-star opening to the vocodered, Kanye-style closer bemoaning such privileged First World Problems as a messy burrito.
Music, lights, sound effects, mimes and dramatic flourishes all go into his show. And in comedic style, too, he seems like an act on shuffle, whipping from musical genre parodies to relationship sketches; phoney audience banter to a fart joke – and an excellent one at that. More maturity means he might not be as precocious as he once was, but he remains multi-talented, and well aware of all the conventions of being on stage, or even on film, so he can send them up with, for example, a great continuity gag. The smart-ass.
When spoofing MOR country (though if you think he's above breaking a line on the first syllable of that word, you're wrong), he refers to the cynical 'textbook pandering' of the singers; though you might say all the performance pyrotechnics make him guilty of the same thing. He admonishes the audience for being Pavlovian, but relies on it too – a typically tricksy move from a comic hard to pin down.
But while all these tricks make it easy for him, he also undermines himself to make things more difficult, from the robotic pre-show announcement reminding us that the 'world is not funny, we are all dying' to his telling the audience to show their appreciation with silence. His crowd on this special are sometimes offputtingly overexcitable, and several times he has to dampen their whooping ardour.
Burnham can get easy laughs – and occasionally does – but generally urges audiences to be more discerning. When everyone's shouting, your attention is a precious gift that shouldn't be squandered on unworthy pap. Which can mean anything from Lip Sync Battle (which he takes down very astutely) or the vacuous easy-salve lyrics of supposedly empowering songs from highly marketed artists like Katy Perry. He's on a mission against dumbing down, but he might be on the losing team.
Burnham is so intensely creative that the occasional misfire comes as a disappointment. I can't say I bought into the 'making sandwiches when stoned and drunk' mime, and his answer to Edwin Starr's rhetorical 'war, what it isn't good for?' is a rare lapse in originality.
But often even when you think you know where he's going, as in the Straight White Man song, ironically parroting those who rail against the slightest erosion of their perceived birthright, he'll surprise with a crafty turn of phrase.
Another strong musical number highlights the hypocrisies and contradictions of women holding out for their perfect man; and vice-versa. Both in melody and in prosaic message – if you want love, lower you expectations – the track is positively Minichinesque.
At the end of his segment mulling the nature of performance, Burnham he wonders if the truly content life is one lived without tying to entertain an audience, online or off. But he will give an hour of happiness, as promised, to anyone who does invest their valuable attention in him.
• Bo Burnham Make Happy is streaming on Netflix now.
Review date: 6 Jun 2016
Reviewed by: Steve Bennett
Recent Reviews
What do you think?