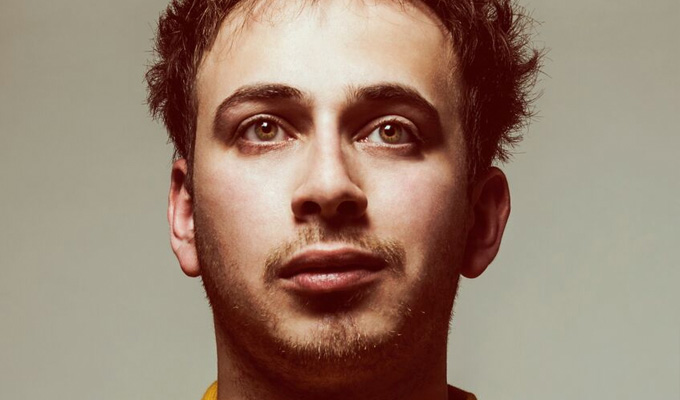 James Hamilton Is So Lonely
In his first solo show, James Hamilton, has created an engagingly watchable character comedy narrative – albeit one which gets rather too bogged down in its convoluted storyline to produce too many laugh-out-loud moments.
We start with Hamilton making an ostentatious marriage proposal to his beloved Emma, roping in a couple of audience members as backing dancers. But it will come as no surprise to anyone following the rules of comedy that Emma hasn't actually shown up. He is, it turns out, far too clingy.
The action then moves to a curiosity shop, run by an obsequious, slightly creepy chap in the mould of Royston Vasey's Edward Tattsyrup. Among his wares are the Goggles of Future Past, which show the wearer one of their possible future timelines. But once seen, that sequence of events is closed forever. 
Cue Hamilton living through some alternate realities that will now never happen, living vicariously in the possibilities while closing off the pathways to happiness in the real world. It's quite a nifty Black Mirrorish 'what if…' premise, although he holds back from going too dark or too intense.
Somewhere in here we find time for some more conventional, if grotesque, character pieces including a manic hair-loss expert and Raoul Wolfsbane, a sinister pick-up artist that would have been a lot more topical at the time this show made its debut at last year's Edinburgh Fringe.
There's a little more audience interaction in these, though you would be forgiven for imagining how much further the likes of Adam Riches would have pushed the envelope. And a lot of the time Hamilton is left to engage with other voices on tape, which only serve to highlight the limitations of the one-man show, rather than being a neat workaround.
Still, the time-leaping storyline remains coherent, both a driving force to keep the curiosity of what happens next, and a glue to hold everything together. What is missing is a steady stream laughs; the creations are amusing, but the script doesn't often crystallise around a gag to capitalise on that, so individual scenes can seem slow for the number of punchlines they contain.
However Hamilton, who is also part of the Casual Violence sketch troupe,   brings everything to a rewarding, even feelgood climax, making deft use of the audience. And the possibilities his story raises remain intriguing even after the lights go up.
Review date: 24 May 2016
Reviewed by: Steve Bennett
Reviewed at: Brighton The Warren
What do you think?