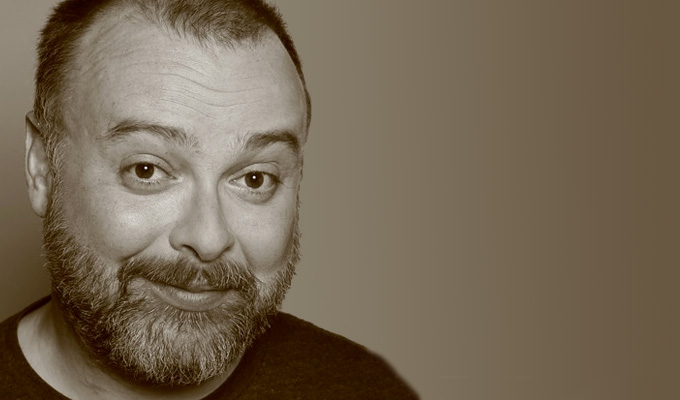 Aidan Goatley: The Joys of Retail
Note: This review is from 2016
Aidan Goatley has a degree in scriptwriting and now performs comedy. And since neither of those are exactly cash cows, he also finds that he's somehow racked up more than a decade's experience of working in stores.
So he knows how to sell something – and Joys Of Retail both has a clear marketing appeal for others toiling in the sector, and delivers what its titles promises: a selection of anecdotes from his time on the tills.
Most of his accidental career has actually been in management, starting when a posh acquaintance decided, on a whim, that the completely inexperienced Goatley was a good egg and therefore  perfectly suited to running his £10million-a-year garden centre operation, and taking responsibility for its 60 staff. Ultimately, though, the owner's cavalier attitude to health and safety led to a parting of ways.
So Goatley was plunged into a more corporate world, where KPI means something and you're obliged to endure day-long training sessions conveying the same information that an email could impart, and sales conferences where every middle-manager suddenly treats a hotel on an East Midlands business park as if it were Ayia Napa. 
Many of the people he worked within the chains of pet stores and garden centres – at least the ones with comic potential – were appalling, making the bulk of this show a parade of pricks; a series of portraits of frustrated alpha-males thinking they were ninjas and commandos for running a pet store on a retail park. Goatley spends about half the show effectively rolling his eyes at their awfulness.
As for him, his superiors' most common complaint seems to be that he is too much of a nice guy for the cutthroat world their egos demand they build, and that certainly comes across in the hour: he's personable, engaging company with an amusing take on his experiences. 
The episodic format, running through odd bosses, colleagues and customers (including Katie Price, who contributes a nicely blunt punchline rather than being the butt of one) range from the everyday frustrating to the more extreme.
Only a couple of the anecdotes, however, are proper comic gold – including the payoff, as his  scriptwriting degree certainly taught him to end on a high –  which means The Joys Of Retail is entertaining rather than rip-roaring.
But the show, just on its third public runout, offers an extension of the gently engaging storytelling of his previous festival offerings, and provides a fun trot through a working life that anyone familiar with corporate bullshit, not just from the retail sector, will relate to.
Review date: 23 May 2016
Reviewed by: Steve Bennett
Reviewed at: Brighton Blue Man
What do you think?