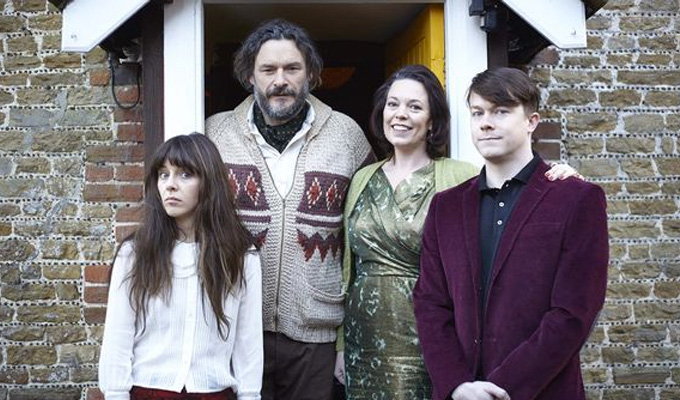 Flowers
Flowers is certainly ambitious in its emotional scope. It's about depression and grief, troubled marriages and even more troubled children, repressed emotions and lost souls.
None of which sounds very funny, admittedly, but wunderkind Will Sharpe, who wrote, directed and stars in this all before his 30th birthday, has skilfully created a show that's filled with laughs, as well more than enough drama to you keep watching. No wonder Channel 4 have stripped Flowers across every night this week… it's definitely a Netflix-era series begging to be binged-watched.
Sharpe has achieved this via an ensemble of characters whose extreme weirdness could be outrageously silly. Yet with the aid of an A-grade cast led by Olivia Coleman and Julian Barratt, it's made perfectly credible, at least within the strange demimonde they inhabit.
Barratt is Maurice Flowers, a children's author whose dark Roald Dahl-style fantasies chimes with his depressed life in a higgledy-piggedly rural home, isolated both physically and metaphorically from the rest of humanity. In the opening scene he hangs himself – unsuccessfully – setting the tone of dark farce that prevails.
He's married to Deborah (Coleman), a music teacher whose chipper manner is a perfect example of middle-class repression, almost manic as she laughs at every social awkwardness happening around her.
Though their marriage plumbs new depths of dysfunction, they are the only couple still together in a series populated by the divorced and the widowed. Barry, played by Colin Hurley, is agonisingly pathetic in his overtures towards Deborah; in contrast George (Angus Wright), has a libido hotter than the sun, coming on heavy to both her and, later in the series, her sister, another divorcee played with wonderful desperate brio by Four Weddings' Anna Chancellor.
Then there are the Flowers children, arrested-development twins still living at home at 25, which Deborah sees as a testament to their fine parenting. Never mind that Donald (played with wonderfully psychotic deadpan by Daniel Rigby) is a weirdo would-be inventor who forms connections with pliers easier than he does with fellow humans; or that Amy (Sophia di Martino) is a tormented goth wallowing in miserable self-pity.
Such misfits all have trouble in their souls, with the super-optimistic Japanese illustrator Shun, played by Sharpe himself, the only broad comic counterpoint, the silly foreigner with a penchant for explicit cartoons – though we're promised that he, too, becomes more complex as the series progresses.
Sharpe's skill is in balancing the serious undertow with the outrageous behaviour that provides the laughs. He shares with Julia Davies a talent in drawing the humour from the dark, credibly not gratuitously.
Having previously co-written and co-directed the acclaimed indie film Black Pond, one of Chris Langham's few projects since his downfall, Sharpe can rightly stake a claim to be a genuine comedy auteur on the back of this original and compelling work.
• Flowers starts with a double bill at 10pm tonight.
Review date: 25 Apr 2016
Reviewed by: Steve Bennett
Recent Reviews
What do you think?