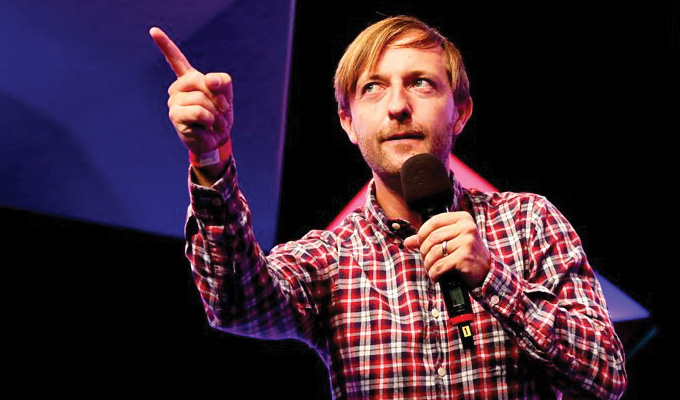 Andrew Maxwell's Late Agenda
Social media is changing the way topical comedy programmes are made. With gags and puns tweeted, posted and instagrammed Around the World within seconds of any news story breaking, why wait till the end of the week for a delayed digest of the same jokes?
Programmes like John Oliver's Last Week Tonight – whose seven-day cycle cannot hope to compete with the relative immediacy of The Daily Show – instead drill in depth into a story, and often one not widely covered in the rest of the media.
Similarly, in his topical new Radio 4 series Andrew Maxwell sets out his stall when he speaks of the reductive pressures of online posts, reducing everything to a yes-no binary. You're a hardline Tory or a fuzzy liberal, we're in Europe or out of it, you're for us or against us – with the clamour to be heard online forcing people into ever-more extreme language. 'Nobody every tweets the centre ground,' he points out.
But in the half-hour monologue of Late Agenda, there's scope for far more nuance than in a 140-character tweet. He's got time to set out arguments, cover all the bases, work in shades of grey. The opening talk – recorded before the Brussels attacks that would challenge any political comic to make funny –  highlights this purposefully, as the convincing Irishman tackles the issue of populism in politics. 
This does, however, mean he has to begin with Donald Trump. Not the best place to start if you want to distinguish yourself from every other topical comedy show out there. Maxwell doesn't reduce him to cartoon villain with laughable hair, as many easy-shot satirists do, but quite whether the world needs to hear more about his blethering, bar-room insanity is debatable.  Even Maxwell calls him 'a Caesar who doesn't care if you're cheering or booing, just as long as you're making some noise' – and this just adds to the noise.
Maxwell's scope is broad rather than deep; this isn't so much about burrowing down into a subject, Oliver-style, but by sweeping up lots of smaller ones into a larger narrative:  the Royal Family, Scottish independence, the media harking back to the good old days, all become points in his state-of-the-world address. 
His 'late agenda' is, therefore, pretty much the sane as the mainstream one,  but even if some of these topics are the preserve of a lot of other comedy commentators, Maxwell does at least put things into a broader context, as well as moving his talk into more contentious issues: ISIS brides are hardly the bread-and-butter of comedy. But in mocking the cynical recruitment of naive teenagers, he highlights a truth and gets laughs out of it.
His style is half-mischief, half 'wake up people!' preacher, which is a heady mix, and the analogies and explanations offer up witty turns of phrase to make memorable the points he so passionately drives home.
• The pilot of Andrew Maxwell's Late Agenda can be heard here.
Review date: 25 Mar 2016
Reviewed by: Steve Bennett
What do you think?