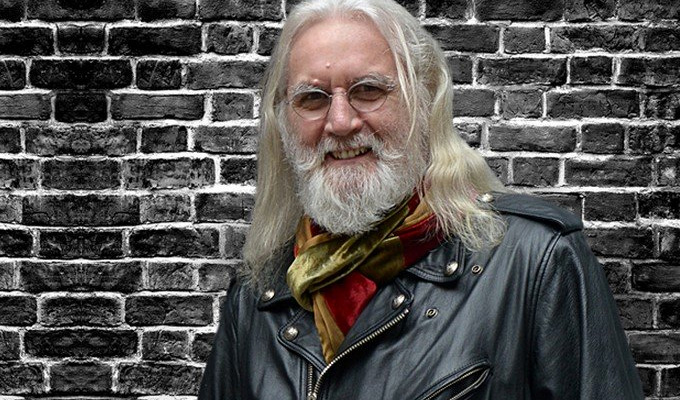 Billy Connolly: High Horse
'I'll tell you about my medical issues,' Billy Connolly offers about 15 minutes into his High Horse show. 'It'll save you searching for the symptoms.'
We already know about his Parkinson's, of course, and his prostate cancer, now gone, oh and the fading memory. He's in the papers more these days for his health woes than his comedy. But hearing of his humiliations first-hand, from a master storyteller long primed to find amusement in the ridiculousness of the human body's failings, is a whole different matter.
Physically, he's noticeably frailer; his performance virtually static now he's 73. Gone are the extravagant throws of his luxuriant hair and grand gestures that spawned a hundred impersonations. He tells us he doesn't shake much; and only once does he noticeably lose the thread of a two-hour monologue which loops and twirls as ever it did. You'd forgive a man half his age such a memory lapse.
But ailments aside, his stand-up is in fine fettle, as effortlessly funny, playful, anti-conventional as ever.
Mischief, as ever, is the order of the day. He starts by recalling inventive pranks pulled by a friend from back in the time when he used to stay in youth hostels. Days that are long past, of course, but Connolly has always been able to paint a vivid portrait of his past as a jobbing musician. He may romanticise such stories from the road and the saloon room – would he really trade his millions to be a struggling pub banjo player? – but such imagery is as effective as it is evocative.
Connolly absorbs stories other people tell him like a sponge, while also attracting first-hand incidents ripe for the retelling. Even a simple drive from his old Aberdeenshire mansion to Glasgow takes a turn to the absurd; immeasurably heightened by the way he tells it. He can make a sneeze hilarious, and does, while retaining the easy conversational delivery that makes you think he's like this every waking hour. 'Did I ever tell you about the dead guy?' he asks us at one point, treating the audience like a familiar drinking buddy.
Long-standing Connolly themes are present and correct: iconoclasm takes in some Scottish folk heroes, in a historical section like David Starkey never told it; anti-authoritarianism in his disdain for health Nazis; and an occasional dark streak. Some animals were harmed in the making of this stand-up, and the casual brutality with which he describes it is hilarious.
We have, too, a couple of heckler stories inspired by a Radio 4 programme - behold the listening choices of a man once so anti-establishment. But he loves the passion of an expert almost as much as he loves sniggering at a rude name, the septuagenarian schoolboy that he is.
Age and decay are certainly an occasional undercurrent. He brilliantly envisages his own dotage, languishing in an old folks' home, and the rapture with which the Hammersmith Apollo audience both greets him and sends him on his his way is surely designed to let him know how much we've appreciated his entire career, the day after another pop culture phenomenon died.
But Connolly's far from ready to meet the Big Yin in the sky yet; his powers of comedy are undimmed. His prime is lasting a hell of a long time.
Review date: 13 Jan 2016
Reviewed by: Steve Bennett
Reviewed at: Eventim Apollo
Recent Reviews
What do you think?