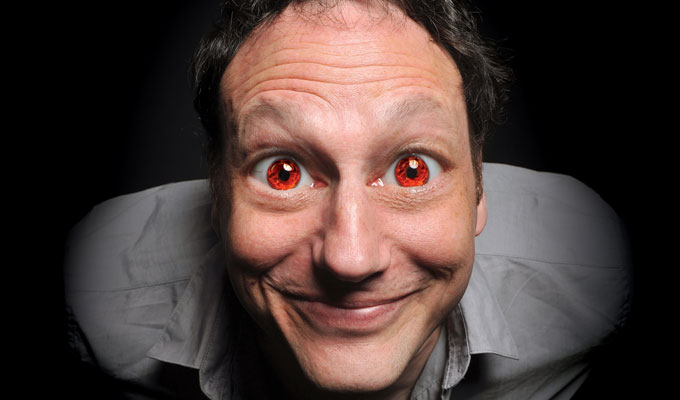 Carey Marx: Intensive Carey
Note: This review is from 2015
Carey Marx finally gets his own Radio 4 show – and all it took is a heart attack. That's the sort of commitment too few young comedians these days just aren't prepared to make…
His acclaimed 2013 Edinburgh Fringe show about his cardiac arrest the previous year is the sort of stand-up storytelling that works so well on radio – and when you consider Marx's superior joke-writing talents and the gravity of the situation that inspired this batch, it's no surprise that it makes for listening that's as compelling as it is entertaining.
Aptly, it's a story with heart - but a damaged one. Intensive Carey is a mix of the edgy and sentimental, as he's forced to ponder his mortality and the frailty of the human body – as well as the love of his wife, Carrie. With a 17-year age gap, he's hads to confront the idea that one day she may be his carer… and when his post-surgery condition left him too weak to carry a bag of sugar home, that day might be sooner than he thinks.
He wears his brush with death so lightly that he has to start by telling the audience that what happened is true, 'not something made up for comedy'. Though when he reveals some of the debaucheries in his behaviour as a road comic – not a Radio 4-approved lifestyle by any stretch – listeners will believe the stresses he put his ticker under.
Compressing the hour-long stand-up show into a half hour for the wireless means there's a lot of story to rattle through, but the pacing and balance are perfect here, a real roller-coaster of drama and comedy. Marx – who previously co-wrote the under-rated Radio 4 comedy Bigipedia with Nick Doody, Matt Kirshen and others – steers a confident course between gallows humour and the more uplifting message of 'what doesn't kill you, only makes you stronger', but not in such a cliched way.
And maybe its scheduling is a cautionary tale to go easy at the New Year's Eve party…
• Intensive Carey is on Radio 4 at 6.30pm.
Review date: 31 Dec 2015
Reviewed by: Steve Bennett
Recent Reviews
What do you think?