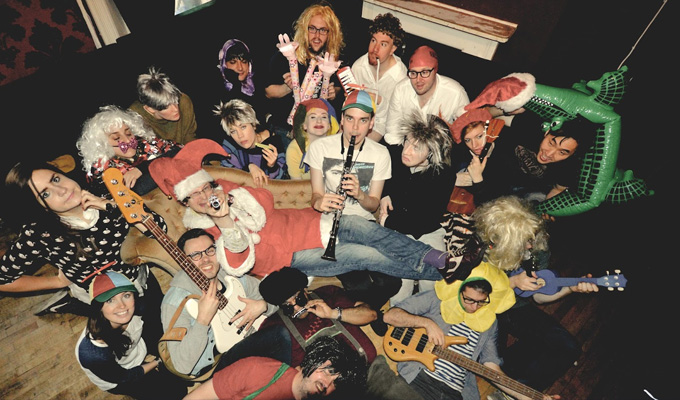 Weirdos For Christmas No 1
Here's a shock… this year's panto from the ever-growing Weirdos collective of comedy circuit oddballs has gone all conventional – and used an actual Christmas theme.
But that's almost where the normalcy ends, save for the booing of villains and cheering of heroes in this typically sprawling, ramshackle and surreal yarn.
The good guy in this case is Adam Larter, who just so happened to have written the show, playing a boy who loves festive songs. So when his parents, John Kearns and Thomas Meek, find themselves with a £50,000 tax bill, he decides to put a band together to record the perfect Christmas No 1 to pay off the debt.
Out to stop them are the taxmen, led by Beth Vyse, who clearly relishes every morsel of villainous over-acting she's allowed to indulge in – which is a lot. She steals every scene to the extent that it takes Jon Brittain, dressed as a 7ft high Noddy Holder in purple-and-zebraprint flared suit, multicoloured bow-tie and freakishly long spidery-arms to upstage her.
And if that doesn't give you an idea of the madness contained herein, consider, too, that the lengthly dramatis personae contains a crocodile who's doing his sailor exams; a lampshade; Micky Thumbs (he plays the drums); 'Sellotape Face's daughter'; a screeching, stereotype-embracing Caledondian-style Santa called Daddy McScotsmas with his pack of terriers; the personification of anti-virus software; and a dancing Dorito-headed fish … and you might have some idea of the insanity on display.
With so many larger-than-life characters, and so many larger-than-life comedians behind them, it's little wonder that the gang-show-style performance is loose, with everyone keen to make an impression. The chaotic spirit of shonky cardboard props, missed cues and forgotten lines is embraced by all, including the audience, who love to be in on the gag. Catchphrases from old pantos are thrown back at the cast, showing the dedication and in-jokes they've built up.
The balance, almost inevitably, can tip towards the self-indulgent at times, with the show clocking in at more than two-and-a-half hours. Even given that every one of the cast of two dozen needs their time in the spotlight, Larter might be advised to try to pare back the script, given that the comics aren't going to stick to it anyway. Director Matthew Highton certainly has his work cut out trying to make them.
Those trying to balance an hilarious amateurism with well-honed comedy instincts include Pat Cahill, Joz Norris, Harriet Kemsley, Gareth Morinan, Katia Kvinge, Eleanor Morton, Cassie Atkinson, Lucy Pearman and composer Laurence Owen… a cast only let down by the thankfully one-off cameo appearance of, well, me, as 'man who doesn't really know what he's doing'.
But even that can't derail the off-the-scale knockabout communal spirit, which by the end has the whole audience on their feet and singing an old-school Christmas No 1. That the chaos holds together enough to get us here is testament to the infectious 'go-for-it' attitude that well suits the decrepit nature of the pop-up venue that this frisky show occupies.
• Weirdos for Christmas Number 1: An Alternative Panto is on at 7.15pm at Grotto @ The HoHo Theatre in the City of London until Friday, with all proceeds from the £10 tickets going to Great Ormond Street Children's Hospital.
Review date: 9 Dec 2015
Reviewed by: Steve Bennett
Recent Reviews
What do you think?