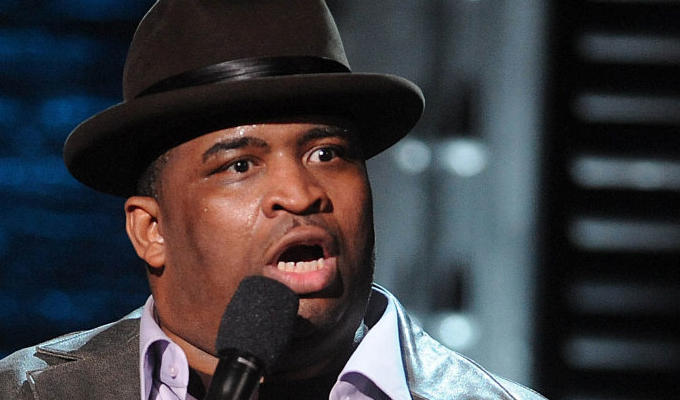 Patrice O'Neil: The Lost Files
Note: This review is from 2015
It's revealing to be reviewing a Patrice O'Neal album in the same week as Dapper Laughs' DVD, for the late American comedian tells sexist, and even racist, jokes far beyond what Dan O'Reilly's alter-ego comes out with.
Yet despite their potential to offend most (though by no means all) do not leave the same nasty taste as Dapper's laddish posturing. It is about both context and creativity. O'Neal's gags are certainly more imaginative, even if they do come from a dark place in the soul. Furthermore, he acknowledges the unpleasantness of his more extreme thoughts.
Early in this show, from 2005, he speaks of how men are instinctively mean, cracking sick jokes about the deadly Indian Ocean tsunami while the tides were still high. He knows, too, that he's an extreme example of that awful side of humanity. When he says something outrageous, he's teasing and tricking the audience into laughter despite themselves – rather than simply echoing their existing behaviour. Then he laughs from the gut at his own audacious awfulness, an endearing move, despite his immorality.
He's not worried about offending anyone, and indeed encourages walkouts for those who don't enjoy his humour. His argument is: 'I don't want to piss people off' – and better them leave than suffer more of his pungent material.
However, when a Persian woman leaves during his 'I like being racist' bit, it's certainly uncomfortable, and certainly less defensible. His used of the word 'retarded', and hint that a woman deserves to be slapped are likely to cause more than a liberal bristle, too.
Yet he creates a conspiracy among those who remain, all in on the no-holds-barred spirit of the frank conversation. By the end the frisky audience are so fully involved that they are making O'Neal raw with laughter at their candour. 'This is the third time she's mentioned her asshole,' he guffaws at one particularly vocal contributor.
There's a very loose too and fro with the crowd that he encourages. For what would have been his first album recording, he's surprisingly happy to go off script, keeping the atmosphere of a live hothouse. A heckle that one of his misogynistic lines means he won't get any sex sparks a long riff about 'holding pussy hostage' that becomes one of the abiding refrains of the show.
Sex and the politics of the bedroom underpins so many of the routines, usually graphic or unedifying in their detail, explained by a man who thinks he's figured it out, but isn't entirely happy with the situation. Tracks such as 'women tell bad stories' or 'women don't know how to be funny' are clearly born from that frustration. But that emotion is nothing compared to the rage he has going through airport security, which adds an edge to this most hackneyed of topics – even if the occasional racist line about some of the officials grates.
As a warning, one track will leave Brits baffled as he discusses the case of Scott Peterson, a man who had recently been found guilty of murdering his wife and their unborn son in California.
This gig was recorded in 2005 but production work was never finished, so it wasn't released at the time and lay undiscovered until after he died in 2011, at the age of 41. It has been released digitally today,with royalties going to his family.
• Patrice O'Neil: The Lost Files has been released today by Gladys & Dude Productions. Click here to buy from iTunes at £7.99.
Review date: 4 Dec 2015
Reviewed by: Steve Bennett
Recent Reviews
What do you think?