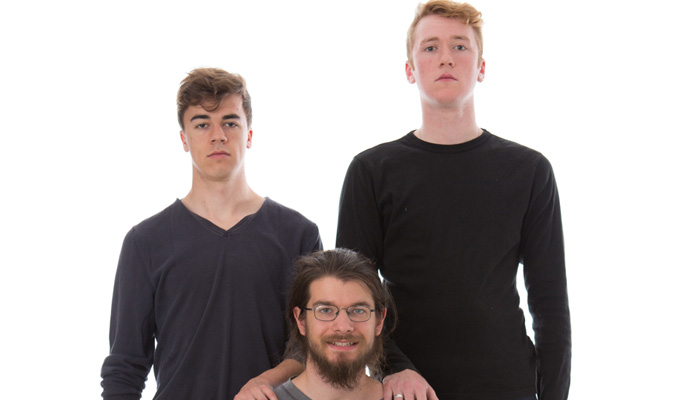 Giants
Note: This review is from 2015
Here's one for the Odd One Out round: Ian Hislop watching a new studenty sketch group in a cosy studio theatre.
But his presence at Giants is easily explained, since his son Will is one of the trio of fresh Oxford graduates making their London debut at the Pleasance. And they're clearly well-tipped, with a small brigade of comedians and industry types also among the audience.
Hislop, along with David Meredith and Barney Fishwick, have much to commend them, with inventive ideas and ambitious writing that strives to set them above every other middle-class-white-boy sketch outfit straight out of university.
However they also douse everything in a fashionable irony,very deliberately acknowledging the artifice of the format and their gags. While this leads to some good lines, its overuse has a distancing effect, as they can never fully commit to the jokes, delivered as if with a knowing wink to the audience. They might want to note the laughs they got when Meredith slipped over, and some genuine on-stage amusement percolated through their youthful self-consciousness, whether the pratfall was intentional or not.
That contrasts with a scene in which he read out a 'what I did in the holidays' story, deliberately laden with cliche and weak, unwitty observations seems too close to unexaggerated reality to work. This underplaying is a rare mis-step in performance, as they all have a keen sense for nuanced, realistic personality quirks.
Out of character, the three have adopted distinctive personalities for the stage: Hislop is portrayed the posh one, his clumsy attempts to appear 'prolier than thou' providing one of the best scenes of the night, although he has more in his repertoire than that and seems itching to be a bit more unpredictable, which in itself make for interesting viewing.
Fishwick actually has a more upper-class demeanour, but he's pitched as a would-be satirist, trying to wedge heavy-handed political jokes into the show with all the informed sophistication of Young Ones era Rik Mayall, while the scruffy, daft Meredith has a cheesy turtle pun he's determined to make work, and constantly returns to despite falling on increasingly stony ground. The wider trope of telling a bad joke and then acknowledging it proves a recurring one over the hour, whether it's in the context of a Nigel Farage sitcom or the payoff to an epic, life-risking adventure.
Their best moments tend to involve music, although they are sensibly rationed. Rejected ideas for the National Anthem and some surprising football chants, which show all three in fine voice, stand out. Rhythms of a different sort come into play in skits such as the silly game of Articulate they play. But not all scenes work quite so well: one set in the trenches of the First World War can't help but evoke unflattering Blackadder comparisons, while the recurring gag of getting audience tweets ultimately feels gimmicky.
Still, you can see why the trio – who performed as the Oxford Revue at this year's Edinburgh Fringe – are attracting attention. They mostly put a distinctive spin on their scripts and their performances are engaging. With a little more focus as a dollop more sincerity, they could be on to something.
Review date: 3 Dec 2015
Reviewed by: Steve Bennett
Recent Reviews
What do you think?