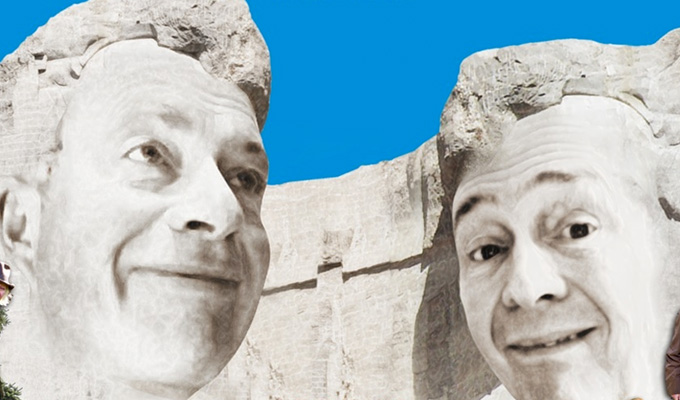 Harry Enfield and Paul Whitehouse: Legends
Note: This review is from 2015
Harry Enfield and Paul Whitehouse's tour is a tug-of-war between nostalgia and relevance. Do they simply go through the old hits, of which there are an impressive number, or do they try to do something new?
In the end they've stuck to the tried-and-tested, but attempted to give them a twist – although some characters take an update better than others. Their creations are often been so bang on the zeitgeist that they can sum up the national mood in a catchphrase, but that makes them harder to adapt for different times.
Loadsamoney, that child of Thatcherism, has probably fared the worst: a working man waving his wad is nothing in the world of the oligarchs and hedge-fund managers that now own London. The other creation who made Enfield's name, Stavros, hasn't fared much better, still a simple national stereotype, despite a very heavy-handed attempt to use him to satirise the Greek financial crisis.
The Yewtree fate of Smashy & Nicey is predictable, too, and beyond the initial knowing references is reduced to a batch of puns on mostly dead DJ's names: 'Jimmy Young Girls' or 'John Feel'
Yet Wayne Slob is timeless (though sad to report Waynetta has come to a sticky end to explain Kathy Burke's absence), and Tim Nice-But-Dim is out on the Tory campaign trial, as in a previous TV sketch, but now unwittingly spilling the beans on David Cameron's Oxford past; especially relevant in the City of Dreaming Spires itself tonight.
Mr Cholmondley-Warner's 'Women Know Your Limits' public information film was already mocking outdated attitudes when it aired, and is here fired at a female stand-up … as if they hadn't already faced enough 'women aren't funny' jibes. Poor Catherine Shepherd, their token female in more than one sketch, is game, though.
However, the audience reaction is strangely muted. Old chums you might expect to be greeted with a rousing cheer come on to almost nothing. This is not the roaring nostalgia-fest of the Monty Python shows, though it's a warm delight being in Harry and Paul's company.
There are lots of knowing references to an assumed rivalry between the pair. The joke with the Old Gits, the opening skit, is that Enfield and Whitehouse are of that vintage themselves now, and the pointed bickering between them blurs the line between character and performer. And with the Self Righteous Brothers ('Oi, Enfield, No!') they get to twist the knife into each other even more viciously.
To reinforce the question of age, a nicely crude Kevin The Teenager sketch is introduced with an interview in which Daniel Radcliffe and Jonathan Ross discussing how tragic it was if the Harry Potter star was to still be playing teenage schoolboys in 40 years' time.
As well as themselves, they also mock contemporary celebs, with sideways jibes at Bad Education, Russell Brand 'is he a queer?' the large-eared old duffers ask, and a brilliant John Bishop done by – of course – the 'calm down' Scousers. Plus they are scurrilously libellous about Jeremy Clarkson. For although most of the appeal of Legends resides in the familiar, they can, on occasion, produce a real curveball of brutal hilarity.
Joy, too, lies in the looseness of some of the missed cues and forgotten lines, although they don't quite seem confident enough in the material on this early date to know how to play with this consistently. And their admirably over-ambitious attempt to recreate their brilliant Dragon's Den sketch live deploys audience participation pretty clumsily, the precision of the caricatures lost under the chaos.
They do keep the audience guessing and sometimes play quite confrontationally with the atmosphere - evoking the death of Rik Mayall for a laugh, for example. It shows a laudable willingness to challenge the audience even if it doesn't quite come off (see also their recent BBC Two An Evening With… retrospective). Similarly, Wayne's offspring Frogmella now wears a full burka. It would be easy to play things very safe with a trot out of old catchphrases, so kudos for not doing that.
Not that hearing the old lines doesn't bring its own pleasure. The audience mouth along with sozzled, rambling barrister, Rowley Birkin muttering 'we were very, very, drunk', one of a trio of Fast Show characters Whitehouse performs in quick succession (nosy neighbour Michael Paine and a solo Suit You tailor being the others) requiring the fastest costume changes in a night full of them. For the one outstanding memory from the show is just how many classic characters the pair have been responsible for.
Yes, they depend on smut and stereotypes in some of their work, and are sometimes a bit reactionary, but that's part of the broad strokes with which they start. They're aware of the criticism, and there's more subtlety close up. Even lesser-known creations (by their standards) are a skilled blend of observation and silliness. Who else could make a catchphrase out of '40, 45 minutes' as their posh medical consultants do, while their creepy confectioner perfectly both encapsulates weird British film noir, while coining the exquisite phrase 'Tuppenny Butterquims'.
Review date: 26 Oct 2015
Reviewed by: Steve Bennett
Reviewed at: Oxford New Theatre
Recent Reviews
What do you think?