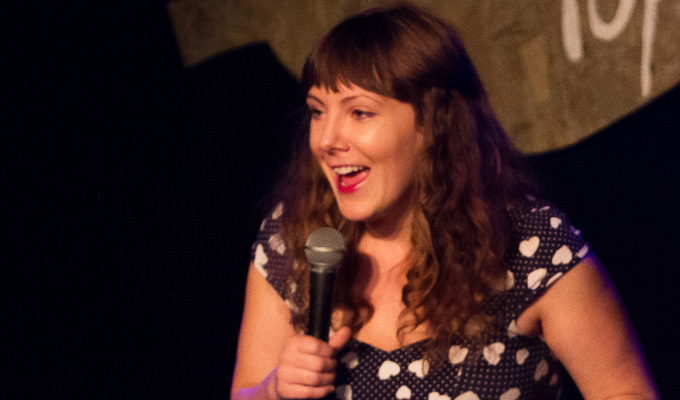 Magners New Comedy Act Final
Note: This review is from 2015
The latest competition for new comedians has one of the shortest journeys from sign-up to victory. Magners hosted just one heat as part of their sponsorship of the Bristol Comedy Garden in July, from which six out of the ten acts were chosen for the final at the Greenwich Comedy Festival last night.
Still, the brevity of the route did not mean a lowering of standards, and the line-up was a strong as any similar event, with Boltonian Sophie Willan a worthy winner of the £1,000 prize.
Despite coming at the end of an already late-starting (but thankfully still short) gig, she fizzled with natural energy as she shared indiscrete gossip about the eccentric women, to put it mildly and euphemistically, in her family.
She starts in selfish mode, deriding her new mum friends throwing their progenies 1st birthday parties (or 'buffdee' in the broad Lancastrian brogue that's a key part of her charm) when they should be out on the town with her. But in fact there's a lot of warmth in her approach, especially when it comes to celebrating the madnesses of those relatives. She's appealingly offhand about an apparently tough and troubled upbringing, casually dropping the news that she was brought up by a heroin addict late into her short set – a background that's mined for laughs – and very successfully – without exploitation. Don't be surprised if the bizarre Willan clan becomes the subject of a sitcom ten years down the line.
One thing that made her stand out was the authenticity of material mined from real life, when all the first three comics leant to some extent on insular jokes about comedy.
Guitar-wielding George Rigden's opening line, set to music, is: 'I know what you're thinking/, musical comedy is shite' thus giving us two cliches for the price of one. He is a very knowing act, sardonic and aloof very much in the Tim Key mould – in fact in some turns of phase are just a little bit too close to his inspiration. And he has a nice trick of picking one audience member to belittle, when clearly Rigden is the bigger loser. He doesn't quite seem to have found his distinctive voice yet – with the jaunty songs contrasting with the more awkward, moody badinage –  but it's a solidly entertaining few minutes.
Compere Mark Olver made a big point of introducing Lolly Adefope as being in character as Gemma, emphasising that this ditzy office worker who had 'never really done comedy before' was a construct. Still, her perfectly observed depiction of the self-assigned 'mental one' from the office dabbling in stand-up might even be a bit TOO convincing. It's only when a few real jokes permeate the 'what AM I like?' exploits that the subtleties become apparent. A new act competition is probably not the best environment for a new act character, but Adefope's Edinburgh debut last month has already proved her to be a promising talent.
It's less easy to make that claim about Chris Washington, whose set includes quite a lot of talk about other gigs, from an indecisive charity shows organiser (clunkily expanded into to 'what if the Prime Minister was like that' but) to a heckle he misheard in Leeds, which has a funny, if contrived, payoff. A good chunk of the rest of the set is given over to his former career as a postman – the crap 'joke' every householder would crack to him and the difference between men and women receiving parcels – but it was largely pedestrian stuff that does little to hold the interest.
'Give me a cheer if you're from Norway!,' opens Ingrid Dahle, more in hope than expectation. Her Scandinavian roots are the wellspring from which most of her comedy comes, offering her an outsider's view on a lot of British tropes; the results of which are hit-and-miss. There's some very nice material about learning idiomatic English from Jeremy Kyle but observations about the class system are trite – when the subject has been so thoroughly explored before she needs different insight or better jokes. But her trademark physical comedy routine involving some stretchy Primark trousers, with which she closed her set, will always be a hit.
Penultimate act Benji Waterstone demonstrated perhaps the most original writing of the night, although his super mild-mannered approach is something the audience must attune to. He has the cardigan, slouch and world-weariness of a young Jeremy Hardy, which he combines with the quirkiness of fellow Hullensian Lucy Beaumont, for some fish-out-of-water tales about moving to London. His day job as a junior doctor with a psychiatry speciality provided rich pickings, too, making him seem like someone you'd like to hear more from, as he could only scratch the surface here.
Review date: 21 Sep 2015
Reviewed by: Steve Bennett
Reviewed at: National Maritime Museum
Recent Reviews
What do you think?