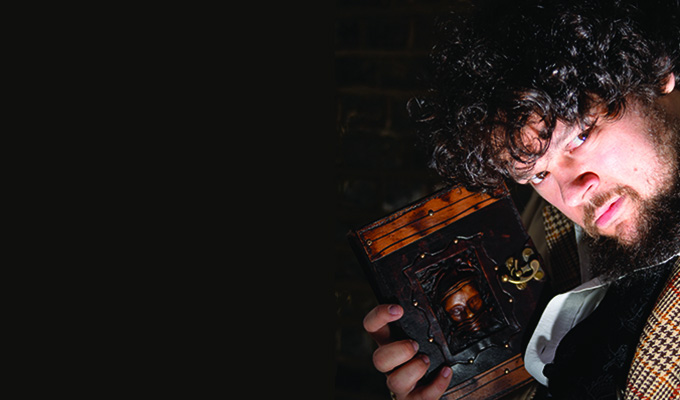 The Story Beast
Once upon a time, a bedraggled, sweaty man charged into a darkened room, shirt falling off his sizeable body, grubby raincoat billowing behind him, and instantly makes his immense presence felt, booming out an epic poem in semi-comprehensible Old English. Once ears are attuned, it becomes clear that this is a parody of the 1,200-or-so-year-old epic poem Beowulf; with the ancient Anglo-Saxon cut with modern references to Gangham Style and impressions of Ray Winstone.
It's a bold, strikingly original way to start a show: theatrical, smart and silly, not even close to how pretentious the idea might sound on paper. But even thought it's impressive when John Henry Falle – aka The Story Beast – explains that the whole hour won't be in the same tone, there's a note of relief too.
The main story is of murderous goings-on in Beastytown, the community of toys and cardboard buildings scattered at his feet. It's 'lean-in' comedy, as the audience sit forward, rapt, to see what will happen next, hanging on a powerhouse performance.
There are a few shorter sketches, too, such as the spooky legend of The Indescribable Horror; and a smart deconstruction of the chilling warning contained within The Teddy Bears' Picnic. Sometimes, though, he goes off the strong theme of spreading folklore the results are decidedly inferior; notably a sub-par stand-uppy bit about that photo of the nine-year-old Queen making a Nazi salute, and a couple of predictable, low gags about mermaids.
A member of the Beta Males sketch group, Falle's delivery and persona is part Brian Blessed, part young Oliver Read, as he points out, rather unnecessarily since the hammy parallels are obvious. But it's a style perfectly suited to sending up the clichés of the epics (and Harry Potter). He's playful with the audience, too, involving us all in the conspiracy that this is dramatic, important stuff… which it's not, it's puckish nonsense.
That some segments fall short of the vaulting ambition he's set for himself only serve to highlight the creativity that's gone into he rest of the show. The Story Beast is surely an alter-ego that will go on and on. Falle has created a monster in more than one sense.
Review date: 31 Aug 2015
Reviewed by: Steve Bennett
Reviewed at: Pleasance Courtyard
Recent Reviews
What do you think?