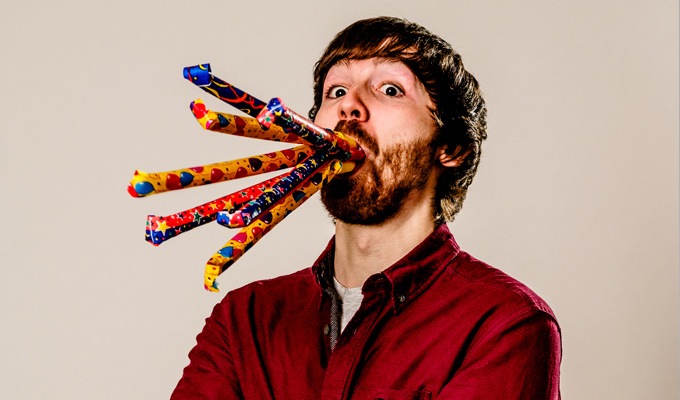 Ian Smith: Whereabouts
Note: This review is from 2015
Ian Smith has a delightfully descriptive turn of phrase and loves a good callback, two talents which elevate his amiable hour of anecdotes above the norm among other white twentysomehting bearded comics in plaid T-shirts sharing playful anecdotes and observations. But he is still something of a victim of an overcrowded marketplace.
His skills come to the fore in creating sketches that become vivid in the mind's eye, especially in an early scene set in an office full of shirkers – an image that prompts his, and possibly the Fringe's, finest visual callback. Detailing the grown girl trapped in a child's swing is another amusing delight, while his own, ineffective attempts at swimming are encapsulated in one satisfyingly witty phrase.
Sometimes, his deft use of language seems to prop up an anecdote that isn't really so exceptional; a bit of childhood pranking involving a remote control being a case in point. But then extending stories more than others might is part of Smith's shtick, even if sometimes it works better than others.
Occasionally looking beyond his own horizons has mixed results, too: how, indeed, can Diet Coke 'sponsor impulsive moments'? Although questioning the practicalities of the Noah's Ark story isn't such an original piece of stand-up inspiration, even if his take on it is his own.
But his quiet charisma and smart wit go a long way; and he makes the show very inclusive, making us all subtly feel part of his stories. Any audience chit-chat is friendly – even when he noticed a girl int he front row becoming bothered by the man behind her breathing heavily down her neck, he resolved the situation affably… not exploiting the potential creepiness but still resolving the issue.
He's got a universal appeal – virtually all his material could go out pre-watershed – and a warm presentation, which should guarantee a good time had by all, even if he's not boldly distinctive enough to be anyone's absolute favourite comedian.
Review date: 28 Aug 2015
Reviewed by: Steve Bennett
Reviewed at: Pleasance Courtyard
Recent Reviews
What do you think?