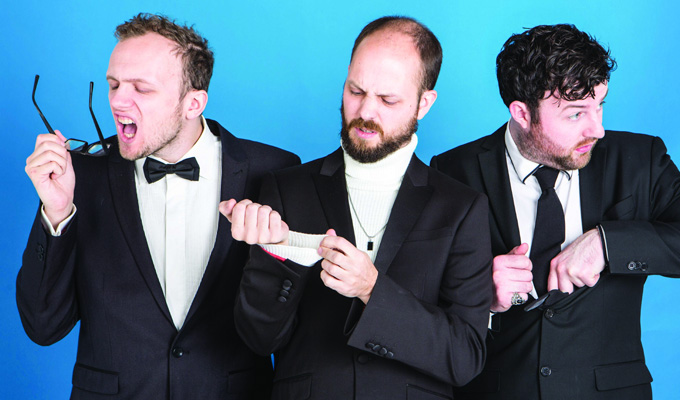 Beasts: Live DVD
Note: This review is from 2015
In Beasts, a rambunctious orgy of slapstick food fights, boisterous nudity, high-energy dancing and silly prop work tumbles across the stage and into the audience in a dynamic celebration of stupidity.
But for all the energy this supercharged trio expend, their antics left me pretty cold. About 80 per cent of the audience were left Doubled Up in hysterics, but I, unfortunately, was in the other camp.
For me, they felt like a troupe of children's entertainers whipping their sugar-charged audience into a frenzy with so much noise and bluster but little substance. They oversell bad puns, treating them with the triumph of an Olympic victory; part of their tactics to deliver everything at such a heightened pitch it becomes a squawk. They bicker as they work at contrived cross-purposes… and if in doubt, knob out! It all feels like it had been done before – and never more so than in acting out a bird feeding her hatchlings, which Trygve Wakenshaw nailed in Kraken.
Beasts – or We Aren't Klang as I might take to calling them – certainly know how to do spectacle, appropriating a bit of Les Mis for one strong theme, and all three are talented performers, if not writers. Mischief-making Ciaran Dowd is the one who most catches the eye, with the big, innocently daft charm of his near-namesake Chris O'Dowd. Owen Roberts, with the dress sense of a 1970s Open University lecturer off duty, is the putative leader of the group while James McNicholas is like a nerdy overgrown child.
But in some respects the differences are minor: They are all intensely over-the-top… imagine The Young Ones but with three Vyvyans and no other characters.
The premise, if you need it, is the oft-used one of trying to impress a Hollywood exec, but ending up foiled by their incompetence and desperation. They're trying to commit the perfect show to DVD, but keep restarting ('Can we give it more oomph?') as each take crumbles to chaos.
There are maybe half a dozen decent jokes in the whole thing. For the vast majority of the audience, the CBBC-style zeal of the super-animated performance was more than enough. But not for me.
Review date: 28 Aug 2015
Reviewed by: Steve Bennett
Reviewed at: Pleasance Courtyard
Recent Reviews
What do you think?