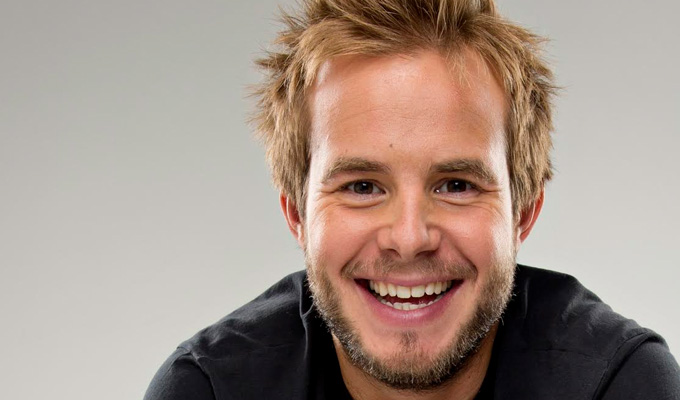 Jimmy McGhie: Winged Goddess Of Victory
Note: This review is from 2015
Ostensibly a show about a comic in his mid-thirties belatedly shaping up, Jimmy McGhie opens by recalling the last time he took cocaine, a drug that never did much for him beyond making him boringly efficient.
A man without convictions, parroting the latest opinions he hears, he's lately become a convert to running. Well, at least the kit, blowing hundreds of pounds on a pair of Nike Air Pegasus trainers and other overpriced accoutrements.
Presenting a self-conscious study of masculinity in crisis, McGhie contextualises his failings against those of his alpha male father, a former soldier with a quick temper who could, and would, start a fight in a farmer's market.
A man who once relished road rage, McGhie Sr represents a troubling template for his son, an unattractive figure to be sure, but one whose sense of himself is never in doubt, squiring the air hostess step-mum the comic lusted after in his teens. The Oedipus myth might have panned out so very differently if camcorder technology had existed in ancient Greece ...
Having inherited his father's propensity to show off, his vanity and that red mist, which he internalises but allows to seep bitterly into his storytelling, McGhie capably paces his hour so that amusing confessional anecdotes slowly click together and stretch back to that final coke binge.
Exquisitely done, with a compelling, simmering fury that powerfully colours the emotional demands of a Fringe show about the sins of the father, the only pity is that McGhie pads it out by highlighting the 40-minute lull, filling it with a snide attack on Russell Howard and an entertaining characterisation of Brazilians that nevertheless adds nothing to the tale he's telling.
Otherwise, the clarity he brings to his account is impressive, and his delivery is never so practised that you can't feel the feeling behind it. A fine show, then, but not a great one, perhaps lacking the guiding hand of a distanced director to keep McGhie to his core narrative.
Review date: 27 Aug 2015
Reviewed by: Jay Richardson
Reviewed at: Pleasance Courtyard
Recent Reviews
What do you think?