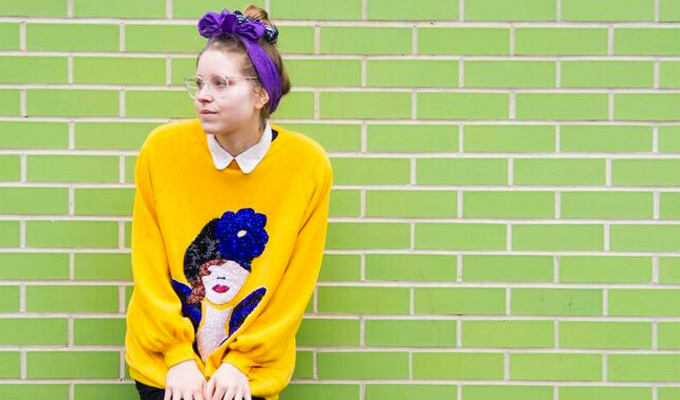 Jessie Cave: I Loved Her
Note: This review is from 2015
Quirk and charm are Jessie Cave's stocks-in-trade, but the former Harry Potter star has a very sobering story to tell in her new show: The one-night stand that led to her giving birth late last year.
Not that the 28-year-old is reining in her eccentric side; the show is full of visuals aids, shadow puppetry and props, and she plays up her naive persona, leaping around in dotty dress and Rapunzel braids. I wonder where she gets the energy from, given she's got an eight-month-old child. There's a very smart performer lurking beneath that wide-eyed exterior, though, and I Loved Her is a nicely thought-out hour that is warm, touching and wickedly honest.
We are taken through her meeting the soon-to-be father, fellow comedian Alfie Brown, their attempts to have a functional relationship after the baby was born, and she lays bare her insecurities about the whole thing.
The pair are so different, for starters – she wants to do jokes about the dots that come up when someone it texting, he has his mind on more weighty concerns. And given her addiction to social media (Instagram, Facebook et al are a constant presence in the show), how will she find time to update her profile picture? What would happen if she tripped while holding an iPhone in one hand and her baby in the other?
Cave is perfectly willing to portray herself as the neurotic girlfriend, and this becomes more pronounced as the show goes on, and is one of the most comical parts of it. Her rabid pursuit of information on Brown's former girlfriend, the seemingly unimpeachable Zoe, almost makes you fear for the ex.
At one point she spirals off into imagining her fantasy wedding, involving tanks and flamingoes and a Haribo ring, then cuts it down by pointing out that her boyfriend couldn't afford to leave her. And that's the main appeal of this show – she's the innocent storyteller who isn't to be underestimated, and as a comic she's really starting to blossom.
Review date: 25 Aug 2015
Reviewed by: Paul Fleckney
Reviewed at: Underbelly Cowgate
Recent Reviews
What do you think?