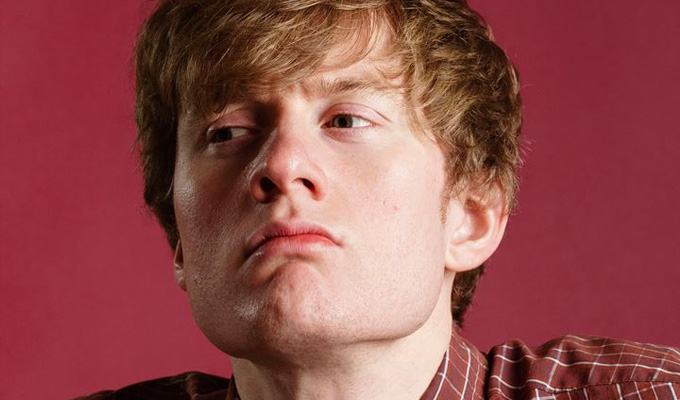 James Acaster: Represent
Note: This review is from 2015
He's a serial award nominee for the Edinburgh Comedy Award, but never yet the winner, so no wonder James Acaster's mind has been drawn to the world of jury deliberations…
The scaffolding of this, yet another virtuoso show from an bright and unique comedy mind, comes from his stint on jury duty; possibly real or possibly fiction – but frankly if you're going to be concerned about how true Acaster's words are, this probably isn't for you.
He skips between relatable observational comedy – from the sort of people who drape their jumpers over their shoulders to a note-perfect description of inept romantic massage – and a slightly askance, semi-fantastical world. Yet even thought it's tricksy and layered, it's more straightforward that some of his previous high-concept shows.
The jury story allows him to to consider the quirks of his fellow adjudicators, releasing a swarm of separate routines which he eventually marshals into an effective whole. That nothing's quite what it seems is apparent from his introduction, when he promises to spill the celebrity gossip he believes we've come for. But his definition of that subject isn't quite the same as the rest of the world's.
Acaster's writing is sharp and original, both on the small details and on the ambitious scale of the whole show, shifting the sands under the audience's feet in keeping with his own uncertainties. And showing how real callbacks are more than just the repetition of a phrase, but the clever foreshadowing of key ideas.
His peculiarly uncool fashion sense and congested delivery juxtapose with his faux 'bad boy' swagger, questioning that which needs to be questioned – even if that is minutely trivial. He's delightful misguided: claiming little Pyrrhic victories as great triumphs, and assuming we're always on the same page as him, even if he's just made up a fable. His delivery also makes very bold use, possibly overuse, of silence – yet still manages to cram more into the hour than you thought humanly possible.
With a show this strong, the odds must be on Acaster making the nomination list again. Will he, like Al Murray before him, find that it's fourth time lucky?
Review date: 24 Aug 2015
Reviewed by: Steve Bennett
Reviewed at: Pleasance Courtyard
Recent Reviews
What do you think?