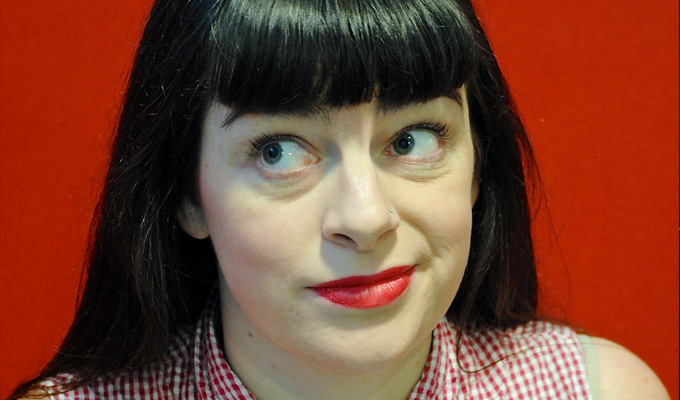 Brydie Lee-Kennedy Loves You Too
Note: This review is from 2015
A good show in search of an audience. Only a handful of us are in attendance to see Australian storyteller Brydie Lee-Kennedy's new one about her falling in love with two different people.
It's a very calm, assured show that slowly touches the places not many shows can reach, and it's been expertly put together by Lee-Kennedy. She chops the show up into vignettes about different aspects of love (for want of a better phrase): love that persists, that interrupts, that ends … She shines a light on to each one, then moves on to the next, leaving us with just an impression, rather than a conclusion that's been forced down your throat. In that sense it's a slow burner, and rewards attention.
Being a sex columnist, Lee-Kennedy has no qualms about being so candid about her fruity love life. It appears she has fitted more into her life than the rest of us ten or so people in the audience – and she admits that had she written a show about her relationships with women (she is bisexual), it would have been far duller.
Along the way we hear about the wartime couple Molly and Edward, and her ex-boyfriend who recently married, and she creates a nice visual image of Edinburgh being a city where, at this time of year, it's full of performers who have all slept with each other. They all know, she says, where exactly to go in order to avoid someone, or to engineer a meeting.
Some of the more memorable moments are the rare occasions when she steps outside her stories to offer up subjective truths, like libertarians don't give head, and how we now see straight through the euphemisms of the past.
Let's talk genres. This isn't really a comedy show. It's a storytelling show with one funny story about a Durham undergraduate with a weird undercarriage. It's a delightful thing that wears its intelligence lightly. It'll probably appeal to those who fancy themselves as being a bit life-literate, and perhaps a bit book-literate too. If you're mainly in Edinburgh for comedy, this could be the change of pace you're looking for.
Review date: 22 Aug 2015
Reviewed by: Paul Fleckney
Reviewed at: Just the Tonic at the Caves (Salvation Rooms)
Recent Reviews
What do you think?