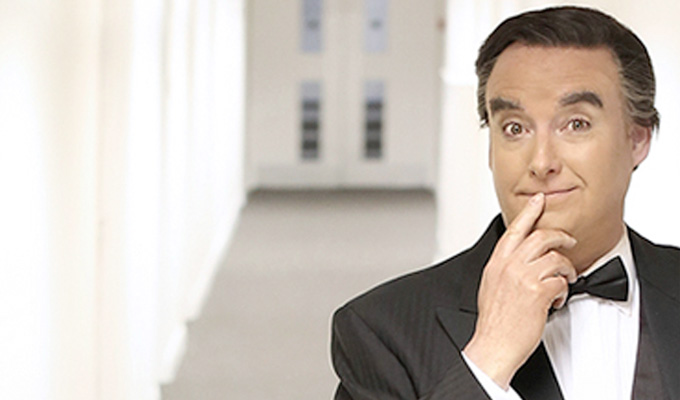 The Man Called Monkhouse
Note: This review is from 2015
Bob Monkhouse's reputation has undergone a reinvention since his death in 2003. Forever accused of being smug and insincere in his lifetime, he has posthumously become more appreciated as a master craftsman of the efficient one-liner.
Simon Cartwright's portrayal of the late comic is masterly. Not just in the faultless mimicry of every vocal pause and contrived arm movement, but also in making this 'robot in a shiny suit' into a real person with emotions. Yet the script, from Barry From Watford creator Alex Lowe, is more of an affectionate biographical study than it is a compelling drama.
The monologue is set in Monkhouse's study in 1995, during something of a career comeback thanks to appearances on Have I Got News For You, among other things. At that time, the theft of two of his joke books made the headlines, and revealed him as a meticulous collector of material. Monk house is shown as troubled by their loss, as if an important part of him is missing. And the investigating police officer who calls in about the case lets slip that he's not a fan, prompting the comic to dwell on the criticisms of inauthenticity levelled at him throughout his career.
The other plot device is that the comedian is also penning a Eulogy for his former professional partner Denis Goodwin, who had taken his life 20 years earlier – a task which allows Monkhouse to reminisce over the full scope of his own life and work, while adding a tone of sadness to the piece to counter the jokes with which the script is liberally peppered.
Along the way, Monkhouse's troubled relationship with his mother is raised (she wore black at his wedding as she disapproved of his choice of bride) as is a run-in with the tabloids over his disabled son and his reputation for womanising – including the time he was threatened by Diana Dors' violent husband who believed he had been cuckolded.
On stage and screen, Monkhouse never revealed anything about this, or any aspect of his personality; and there's a sense that this play – directed by Bob Golding,who previously played Eric Morecambe in another 'dead comic' piece – hasn't got to the heart of him either. However it does have a place in maintaining Monkhouse's ongoing reappraisal – as well as giving another airing to some cracking classic gags.
Review date: 20 Aug 2015
Reviewed by: Steve Bennett
Reviewed at: Assembly Hall
Recent Reviews
What do you think?