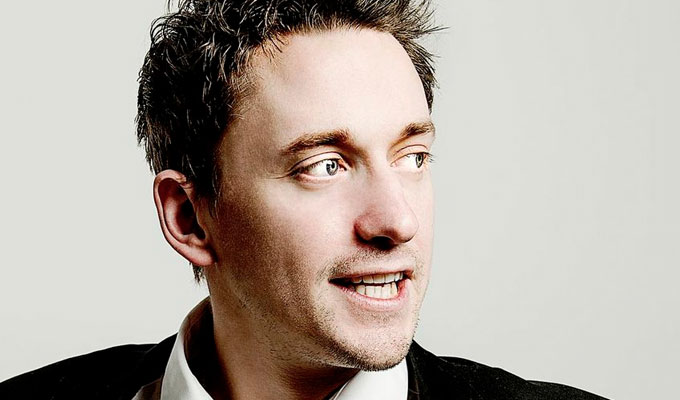 John Robins: Speakeasy
Note: This review is from 2015
He's a cocky bugger onstage, is John Robins, but he can't half back it up. Speakeasy is his seventh solo show, and the best I've seen of his, an outstanding mix of material and message.
In it he examines how in the internet age, we are so quick to judge, and be judged, according to our online personas. Those ugly, flattened versions of our true selves should be taken with a huge pinch of salt, he says, yet we are increasingly reliant on them for our identity. Contemporary, insightful – tell me more.
It can, of course, be fun to dismiss someone on the basis of a try-hard, cliched Twitter bio, and Robins does just that. In one of the strongest routines of the show, he takes a guy called Dan's bio and dissects it, with some fresh observations about people who identify as being a photographer and a tea obsessive, though the subsequent joke about tea is one Daniel Kitson has made before. But Robins turns things back on himself when he takes a plane and bonds with two people whom he wouldn't give the time of day online.
The starting point for all of this is a world away, in the domestic bliss of the flat he shares with his girlfriend in South London. He sets us up for a show about relationships, as his pathetic attempts to cope with her being away in Australia for four weeks. You hardly notice the turn in the road that leads us into all that other stuff.
Tonally, bantz dominates. Robins is never far away from calling himself a legend or a hero or some such, but it's a show of genuine depth and humanity. For example his thoughts about what the 'average man' is really like could be a whole show in itself, likewise the fundamental difference between a thought and an internet search.
The odd thing for me is that Robins has a tendency to slip into Alan Partridge/David Brent speak, a strange habit for an established stand-up, you would've thought those sorts of edges would have been rounded off by now.
Still, there can't be many better stand-up shows at the Fringe than this, and it's in a cracking little room for comedy; in fact it could almost pass for a comedy club, if it wasn't so clearly a lecture theatre.
It's been said before that Robins is an under-appreciated stand-up, and certainly on this evidence, he's virtually bullet-proof now.
Review date: 19 Aug 2015
Reviewed by: Paul Fleckney
Reviewed at: Assembly George Square
Recent Reviews
What do you think?